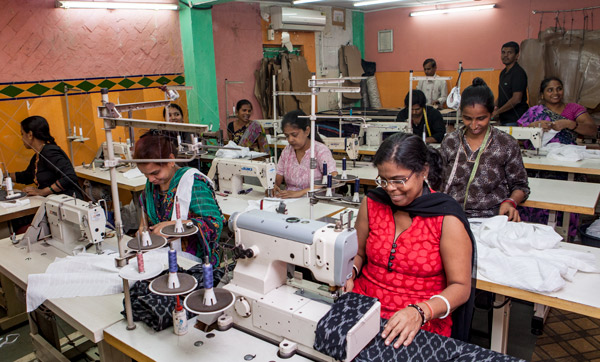 Nirmaan Cooperative Define Their Brand
Nirmaan is one of the oldest and largest groups, consisting of 12 tailors, 20 embroidery artisans, one cutter and two supervisors. Some of the artisans have actually been there for 30 years, and they have seen much growth. When clashes arise in the group, these elders often can intervene with wise suggestions to defuse the situation. It is a lively group, but everyone has the same goal. Whenever a change is considered, they hash it out before coming to a consensus. They love learning new things and are always eager to participate in social programs and events. Nirmaan chose these four aspects to describe their identity:

1.Unity
2.Hard Work
3.Quality
4.Communication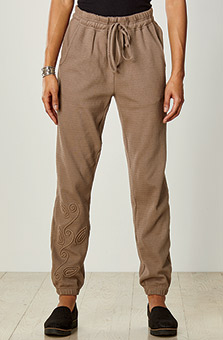 Jogger - Mushroom
$72.00–$76.00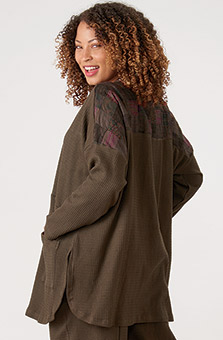 Bindal Jacket - Dark olive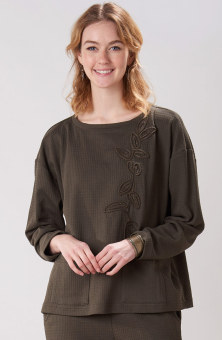 Ansiba Tee - Dark Olive
$74.00–$78.00
Write a review
---
Great pants
Sep 10, 2021 | By Katherine
The unusual shape takes a bit of getting used to, and the flat front makes the waist a little tighter. But overall I'm pleased. These pants will make a versatile addition to my wardrobe.
---
They're Baaack
Oct 6, 2021 | By Karyn Gibson
I was disappointed when I couldn't find the Shillong pant in recent catalogs. They're back now and the colors are good for me. Not sure how the waffle weave will launder but I'm trusting the Ladies in India to select the right fabric for the job! Bought two pair to add to my three others.
---
Love them!
Dec 26, 2021 | By Cheryl
I love these pants! I'm a size 20 and so they don't look quite as cute on me as they look on the model in the picture, but I love the way they look with a big top and they are so incredibly comfortable. They wash well and then I air-dry them. I love the shape. I wish they came in a whole array of colors because I would own every single one! These are just wonderful pants.
---
Great pants.
Nov 16, 2022 | By Rita Sherwin
Soft, flattering, pockets, beautiful color.
---