Embroidery Key To Independence
How can little stitches add up to empowerment for women? Since hand embroidery can be done without special equipment, the women can do it at home. They can also do the work on a schedule that suits them. Many women collect the pieces from the workshops after they have cooked, cleaned, and taken their children to school. They complete the embroidery in the evenings while their children study or sleep. Flexibility is beautiful…and empowering.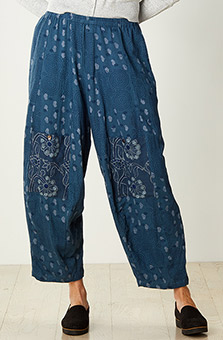 Field Pant - Ink blue
$82.00–$86.00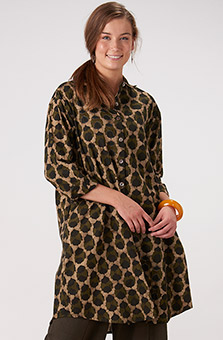 Rima Shirt - Almond/Dark olive
$82.00–$86.00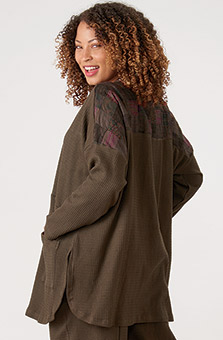 Bindal Jacket - Dark olive
$84.00–$89.00
CUSTOMER REVIEWS





Love them!
Dec 26, 2021
By Cheryl
I love these pants! I'm a size 20 and so they don't look quite as cute on me as they look on the model in the picture, but I love the way they look with a big top and they are so incredibly comfortable. They wash well and then I air-dry them. I love the shape. I wish they came in a whole array of colors because I would own every single one! These are just wonderful pants.





They're Baaack
Oct 6, 2021
By Karyn Gibson
I was disappointed when I couldn't find the Shillong pant in recent catalogs. They're back now and the colors are good for me. Not sure how the waffle weave will launder but I'm trusting the Ladies in India to select the right fabric for the job! Bought two pair to add to my three others.





Great pants
Sep 10, 2021
By Katherine
The unusual shape takes a bit of getting used to, and the flat front makes the waist a little tighter. But overall I'm pleased. These pants will make a versatile addition to my wardrobe.