Kalamkari:
The word Kalamkari is derived from a Persian word where 'kalam' means pen and 'kari' refers to craftsmanship. Initially Kalamkari fabrics were hand painted but today wooden carved blocks are used. Kalamkari textiles were a prized trading commodity throughout Asia and Europe for hundreds of years. This traditional art has survived among dedicated artisans in southern India who follow the age–old techniques and natural dye recipes of this painstaking process. The process can involve 23 steps each requiring precision and an eye for detailing.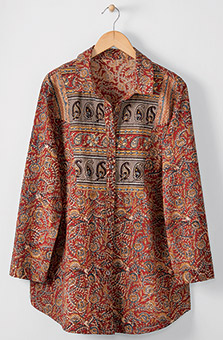 Namrita Top - Red natural dye/Multi
$75.00–$79.00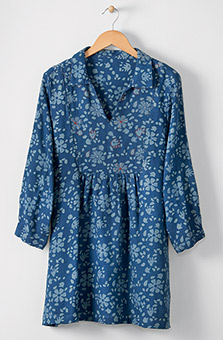 Shilpa Tunic - Ink blue
$82.00–$86.00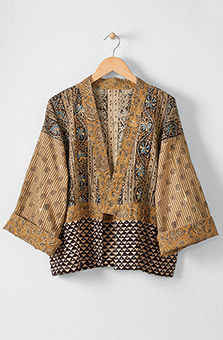 Sikkim Jacket - Olive/Black
$82.00–$86.00
CUSTOMER REVIEWS





Heavenly details, classic fit
Nov 26, 2021
By Therry Neilsen-Steinhardt
This marvelous tunic is such a wonderful color, and the bodice is extensively and richly embroidered. It's wonderful to wear and washes well. I would note only one thing: it fits very closely especially around the chest. I ordered both the Large and the Medium and sent the Medium back.It's flattering and handsome and I'm very happy with the larger size.





Color and print not quite right for me
Sep 20, 2021
By Rochelle Gatlin
A well-designed garment, but the color is somewhat too yellow for my complexion. Also, I wish we could see the print up close. I had not realized what it actually is, and do not find it that appealing.