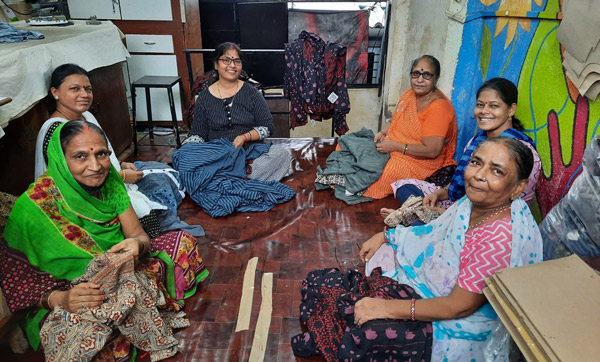 WARE Collective Define Their Brand
WARE (Women Artisans' Rehabilitation Enterprise) was established in 1995 and includes 6 tailors, 20 embroidery artisans, one cutter and two supervisors. They quickly showed their determination to succeed. While they started out in their founder's own home, they soon moved on to first renting a space and then buying their own workshop using savings and loans from the members themselves. The tight–knit group make decisions as a group, celebrate everyone's birthday and are quick to help fellow members. They chose these aspects to sum up their identity:

1.Responsibilities
2.Unity
3.Motivate Everyone For Their Skills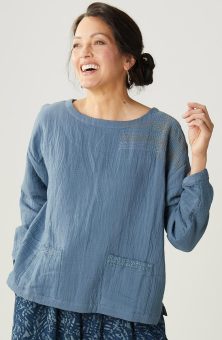 Parisa Top - Pond
$92.00–$96.00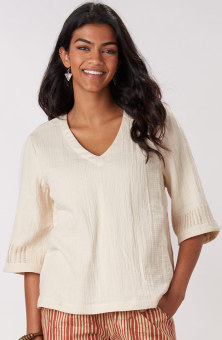 Kochi V-neck Top - Salt
$92.00–$95.00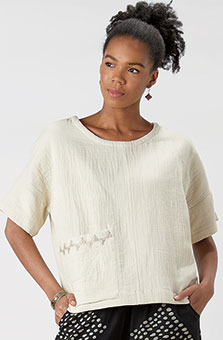 Shalini Top - Salt
Write a review
---
Another hit!
Mar 28, 2022 | By Jean
I live in my Marketplace jackets, and this is another great one. The "double weave cloth" feels like two layers of gauze--weighty, but with an lovely, natural texture. The cut is boxy, so definitely don't size up.
---
I felt fantastic!
Jun 27, 2022 | By Caroline Lucic
I wore my jacket to lead a labyrinth walk in and felt fantastic! The fit was perfect, the color goes with anything, and the look is regal!!!!
---
Kimono-style light jacket
Jul 20, 2022 | By Linda Phillips
I love this jacket style, and it is beautifully done. Fit is as expected (I've ordered many items from Marketplace, and sizing is consistent). This will be great to wear with jeans or with linen pants.
---