Finding Her Identity
In their discussions about the value of Independence, the artisans have shared their own stories. As children and young women they were not encouraged to make their own choices and they were not given many opportunities to achieve. Ramila came to Mumbai as a young married girl with no education. "I never thought I could do anything." Working at MarketPlace gave her not only financial help, but also an independent identity. She's now proud to have bought her own house and educated her children.
Sikkim Jacket - River/White
$79.00–$82.00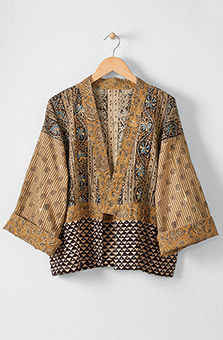 Sikkim Jacket - Olive/Black
$82.00–$86.00
Sikkim Jacket - Cornflower/Multi
$79.00–$82.00
CUSTOMER REVIEWS





Great Jacket
Sep 22, 2021
By Laina Rigos
I love the color and loose fit. I am going to wear this a lot.





Indigo jacket
Aug 27, 2020
By Walker Saville
One of the very nicest pieces from your great collection. Very modern, beautifully finished. Wish you had Kesari pants in this style!





Beautiful!
Jun 15, 2020
By Lucia LaVilla-Havelin
I received my beautiful indigo embroidered jacket from my husband for my birthday. I love it! It is elegantly done and so versatile in its styling. I will look for more from you. Thank you!