Thinking of Others Even During Hard Times!
When the lockdown order came down, many of the artisans responded by thinking about others. Even before the medical experts recommended them, they somehow knew masks were going to be important…so they decided to sew some. Using chindis, scrap fabric, they came up with a design and made face masks not only for themselves, but for their neighbors. They found a safe way to distribute over 300 masks, free of charge.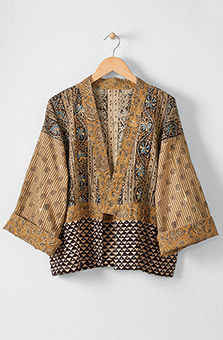 Sikkim Jacket - Olive/Black
$82.00–$86.00
Sikkim Jacket - Cornflower/Multi
$79.00–$82.00
Sikkim Jacket - River/White
$79.00–$82.00
CUSTOMER REVIEWS





This jacket makes me smile.
Jan 28, 2021
By Callie Justice
Beautiful patterns. Rich colors. Quality crafting. After trying it on to check for fit (good), I left it laid out on the back of a chair so I could enjoy looking at it for a while before hanging it in the closet. Can't wait for warmer weather so I can wear it often!