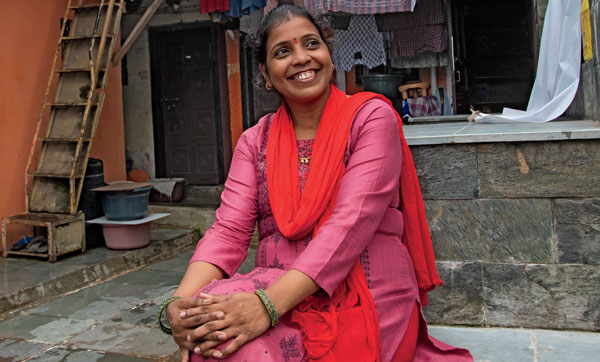 Shivangi Mestry: Embroidery Artisan, Pragati Cooperative
Reflecting back on her life, Shivangi Mestry sees a dividing line: before and after joining the Cooperative. Before she joined, she was taking care of the household, but found little enjoyment. When she started work as an artisan, she had no particular expectations, "But suddenly I found myself with an identity and life of my own!" Among the many new experiences she encountered with the group: celebrating birthdays, going on picnics, and performing skits. She was thrilled when her group won a contest at the Women's Day Celebration. She loves to dance, but there had been no opportunity for such activities in her former life. But as part of the Cooperative, she has performed three times, "the fulfillment of a dream!"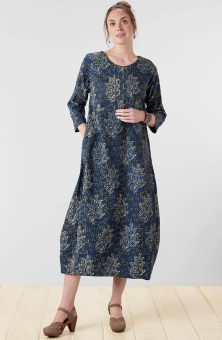 Manjari Dress - Navy/Multi
$118.00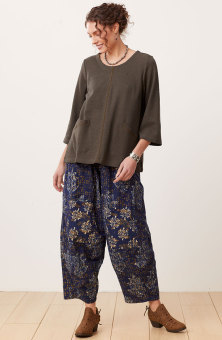 Field Pant - Navy/Multi
$98.00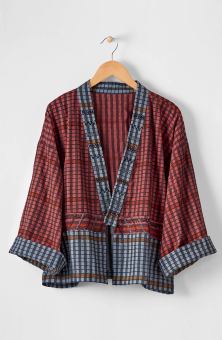 Sikkim Jacket - Sumac/Multi
$95.00
Write a review
---
Beautiful, season-perfect light jacket
Aug 27, 2023 | By mountaingirl54
I admire your mission and the fabrics and stylings of your clothing. However I am challenged by many of the color choices/pairings. Although there is a small amount of olive green in the print, the medium/dark blue and the cream/white are more dominant. By wearing dark blue or white tees and pants those favorable colors stand out. This jacket is made of a woven non-stretch fabric and I ordered a 3X as my "girls" are generous-sized.
---
Love this jacket
Aug 29, 2023 | By PattyP
I love this jacket. Beautiful fabric, color, pattern, embroidery. Great as a light cover-up, particularly right now in the Northeast where it's hot outside so inside stores/restaurants can be over-air-conditioned.

I've ordered a few times from Marketplace and the delivery has always been swift with no issues.
---
Beautiful
Nov 2, 2023 | By MeToYou
I loved this jacket, but it was way too big...I got a 2X. The colors and design are beautiful and it's a nice light weight cotton perfect for layering. I don't like to wear sweaters in the winter and this jacket can be worn in place of heavy sweaters. It is a boxy design so it will drape nicely. Unfortunately it is backordered so I'll have to wait to order a smaller size.
---