Aiming for better
Rashmi Sharma came to Mumbai after she was married at 21. Her new mother-in-law was an embroidery artisan at Nirmaan and she encouraged Rashmi to join. The warmth and support of her fellow artisans helped Rashmi adjust and gain confidence. She is proud to be able to save some money for her 4-year old son's future. Looking ahead for herself, she plans to learn about computers and fashion design. She had to leave school at 9th grade, but she is not done learning and succeeding.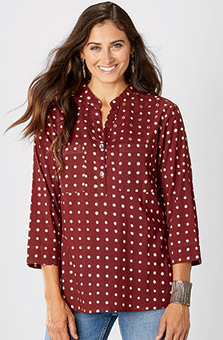 Chinam Shirt - Dark Redwood
$72.00–$76.00
Anuja Tunic - Carnelian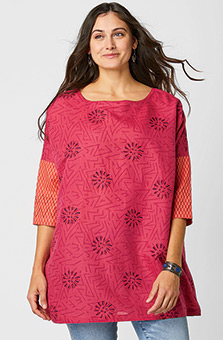 Kaira Oversized Tunic - Allium/Multi
$88.00–$92.00
CUSTOMER REVIEWS





Big, but beautiful
Nov 28, 2021
By Benita J Wallraff
This is definitely an OVERSIZED top. I regularly get size Medium, and after reading the description, I purchased size Small. It still is oversized. So be forewarned. BUT, the quality is great, the sewing (I am a seamstress) is expert, and the fabric is gorgeous.





Actually Oversize, Very Pretty
Aug 4, 2020
By Maggie
I love the color on this one, as well as the fun block prints. The hand embroidery is fun. too. The linen-blend fabric has lots of body and swing. I was a bit worried the horizontal stripes would look huge on me, but then I noticed the "oversized" description and ordered down a size. Once it was washed & hung dry, it relaxed into a very comfy and pretty fit. You could iron it if you prefer it crisp.





Worth the wait!!
Jun 23, 2020
By Mary M Williams
As this was back ordered, I wait a long time and it sure was wroth it. I love everything about this piece: the soft and easy colors, the block printing , the subtle embroidery, the comfortable just right boxy fit! Thank you ladies for your beautiful creation. What you have sent out in the world speak loudly and beautifully of your espertise and creativity!!