Earning Financial Independence
The artisans' discussion meetings have dealt with many subjects, from real life issues to more philosophical topics. When the subject has been Independence, the talks touch on both: fairness and practical applications. For Nanda Devi, Independence has meant that she has been able to earn and take care of her children, seeing them settle into productive and satisfying lives. She does not want her health issues to interfere: "I have been earning all my life and want to continue having my financial independence."
Sikkim Jacket - Cornflower/Multi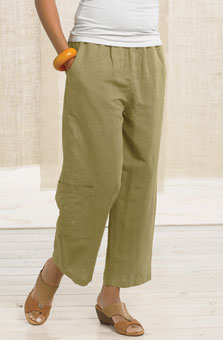 Kesari Cargo Pant - Olive
$78.00–$82.00
Vanita Tunic - Olive
CUSTOMER REVIEWS





delightful hot weather layer
May 28, 2022
By Arlene Gray
This extremely lightweight cotton fabric with an elegant batik print has resulted in a well constructed wardrobe mainstay for the forecasted sweltering summer. Absolutely delighted with this purchase. Many thanks.





Unique
Dec 22, 2021
By Deborah
Love the fabric...light, comfortable on a super hot day, yet super coverage. Beautiful feel, design. Rarely get compliments on what I wear, but did with the Sitara jacket.





Pleased again!
Feb 23, 2021
By Carol Ann Cacner
This was my 3 rd purchase and my 2 items are another home run! Both the Sitsra jacket and the 3/4 sleeve tee shirt are great. Fabrics and colors are lovely. Each piece has some beautifully done whimsical hand embroidery that makes each piece even more distinctive. I'll be back.





Just what I wanted
May 18, 2020
By Irene Karns
The print is unique; this jacket goes well with the olive cargo pants.