Supporting Independence
The artisans have been holding meetings to talk about the values that are central to their lives now. For many, the independence they now enjoy is in stark contrast to their lives before MarketPlace. In many cases their families tried to restrict both their freedom of thought and action. Nasreen appreciates that her family supported her decision to work. Her income not only pays regular household bills and school fees, but also her father's extensive medical expenses.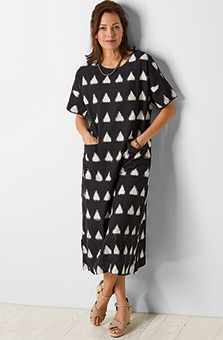 Vishala Kaftan - Black/Natural
$99.00–$104.00
Samina Dress - Cobalt
$82.00–$86.00
Malini Tunic - Black
$88.00–$92.00
CUSTOMER REVIEWS





So Comfortable
Sep 10, 2021
By Ana
Great fit, quality garment, and easy to wear w/o looking sloppy.





Perfect for all occasions
Aug 19, 2021
By Marina Stefan
This dress would fit almost any occasion, casual or elegant, depending on accessories. It would flatter any shape because of the way the dress flows over your body. The cotton might be a little heavy in hot weather, but would be fine in an air conditioned space ...... and it is perfect for spring and fall..





This was one item in my first order, and just like the other item...WOW!
Sep 12, 2020
By Penny Watkins
This quality of this dress was amazing. I wore it the first chance I got, and the compliments were many. This won't be my last order, and that's a fact!





Love this dress!
Feb 24, 2020
By Noel Little
lovely cotton material. Soft and cozy. With pockets too