Stress Busting
2020 has taken a toll on the artisans´ health and sense of well-being. An activity which was initiated before the pandemic and lockdown, however, proved to be a help during these times and beyond. The women had started a Share-organized yoga class. Reception at the time was sort of lukewarm. Its popularity grew when the women were confined at home and they came to appreciate its health and stress-relieving benefits. They have involved other family members as well, and look forward to continuing this exercise.
Neera Organic Pant - Jade
$84.00–$88.00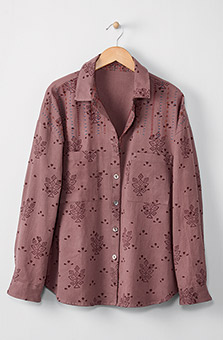 Ranjitha Shirt - Dusty plum
$88.00–$92.00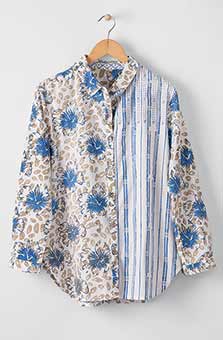 Jeevan Organic Shirt - White/Lapis
$118.00–$122.00
CUSTOMER REVIEWS





Tunic Tops Rock!
Feb 8, 2022
By Gayle Hays
The fabric is nicely pieced together with unique earthy colors. I can't think of any complexion it wouldn't enhance. The cut is generous and the craftsmanship unique. Beautiful buttons and buttonhole detailing. It draws attention to itself because of its natural warmth and design.