Working Remotely During The Pandemic
MarketPlace has many ways to maintain high quality. Normally these involve actually holding a piece and examining it. Fabric color and print are compared to sample swatches to make sure they are right. The groups make finished sample garments in all sizes and these are carefully inspected. With the lockdown, some tasks had to take place over Zoom. But colors are not accurate on monitors, and checking measurements remotely is a risky business. The staff took turns going to the office for in-person looks. To read on, visit our blog
Sujaya Top - Grey
$79.00–$82.00
Cowl Pullover - Evergreen heather
$79.00–$82.00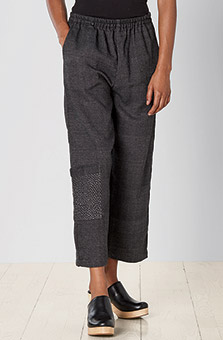 Recycled Yarn Kesari Cargo Pant - Charcoal
$89.00–$92.00
CUSTOMER REVIEWS





Suhani Top
Feb 15, 2021
By Barbara Rand
I really like the lines and colors in this top. I am not the thinnest or tallest person around so the vertical lines give me some length and an overall slimmer look. The sleeve length is great and I love the neckline... not tight but stylish. The fabric is woven beautifully and colors work well with my silver hair.





Suhani Top
Sep 22, 2020
By Maureen Russell
Loved the pattern. Not stretchy and small in the shoulder that made it hard to put on.





Love this shirt
Sep 15, 2020
By Diana Steinhagen
I'm looking forward to wearing this shirt! Very lightweight cotton so I won't have to wait for cold days to wear it. Will be perfect for the Fall. Fits great, super comfy & so stylish! Thank you for another great addition to my wardrobe!