Aiming for better
Rashmi Sharma came to Mumbai after she was married at 21. Her new mother-in-law was an embroidery artisan at Nirmaan and she encouraged Rashmi to join. The warmth and support of her fellow artisans helped Rashmi adjust and gain confidence. She is proud to be able to save some money for her 4-year old son's future. Looking ahead for herself, she plans to learn about computers and fashion design. She had to leave school at 9th grade, but she is not done learning and succeeding.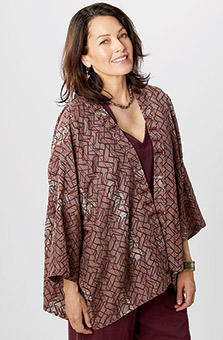 Sunita Jacket - Dusty plum
$94.00–$98.00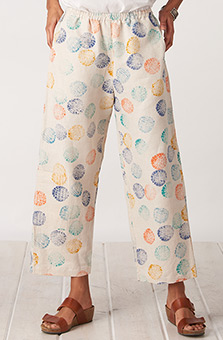 Kesari Pant - Flax/Multi
$88.00–$92.00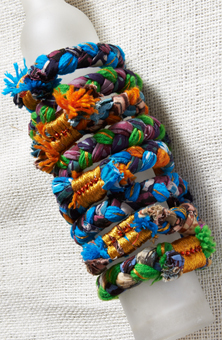 Chindi Bracelets - Set of 2
$17.00
CUSTOMER REVIEWS





Runs large
Jun 3, 2021
By Kathy
Runs a little large, so may have ordered a size down. But so light and easy to wear over anything. I love it to cover arms with my sleeveless items. Feels like you're not wearing an extra garment. Have gotten many compliments each time I wear it. Will be my 'go to' coverup for the season.





Fresh summer jacket
Apr 27, 2021
By Doreen Leighton
The material and jacket design are beautiful, and the shape is forgiving. Perfect for warm days, summer events!





Lightweight and Colorful
Apr 1, 2021
By Nancy D Barbour
This is a very lightweight jacket that will go with may different outfits due to the many colors in the print. I expect to use it with both summer sundresses and with slacks outfits. It can dress up a sleeveless dress.





Love it!
Mar 29, 2021
By Linda
I love this jacket. Great design and colors. It's lightweight cotton and silk blend, it will be wonderful during the summer.