Kalamkari:
The word Kalamkari is derived from a Persian word where 'kalam' means pen and 'kari' refers to craftsmanship. Initially Kalamkari fabrics were hand painted but today wooden carved blocks are used. Kalamkari textiles were a prized trading commodity throughout Asia and Europe for hundreds of years. This traditional art has survived among dedicated artisans in southern India who follow the age–old techniques and natural dye recipes of this painstaking process. The process can involve 23 steps each requiring precision and an eye for detailing.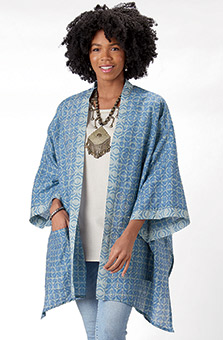 Kavasi Jacket - Sea blue
$125.00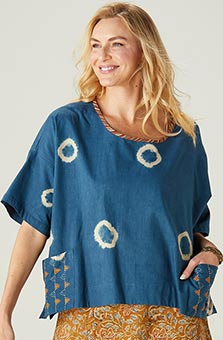 Tripura Top - Ink blue
$74.00–$78.00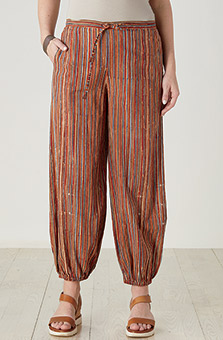 Neetu Pant - Beeswax/Multi
$68.00–$72.00
CUSTOMER REVIEWS





Love this jacket!
Apr 23, 2022
By Gwen Moore
Light weight, easy to iron, & love to wear it for casual or to church. I love this style. Wish you made the Sunita jacket in bright , summer colors!





Sunita Jacket
Apr 19, 2022
By Sally Askins
Lovely, lovely, lovely! Incredibly versatile and a perfect addition to my Spring wardrobe!