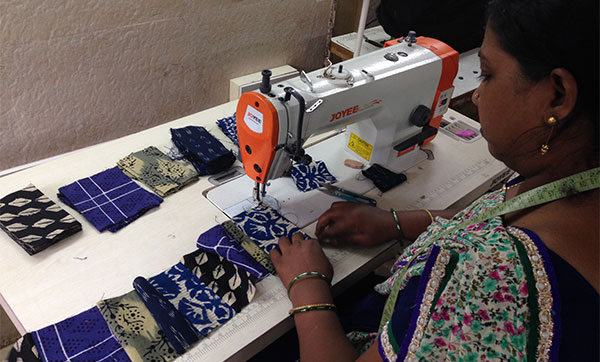 Renewing Materials, New Lives
MarketPlace's Chindi collection makes scraps stylish while training new artisans. The chindi, small fabric pieces left over from cutting garments, are recycled into new clothing, accessories and embellishments in a variety of ways. After being cut into uniform pieces, the chindi are sewn together by trainees learning to sew straight and accurate seams on the sewing machines. Look for the C sign next to products to see the creative ways the artisans have incorporated chindis.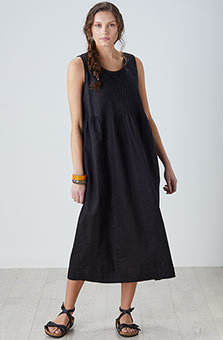 Ragini Dress - Black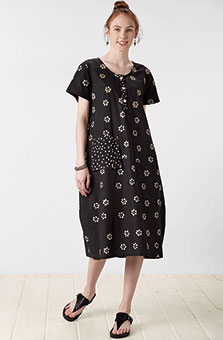 Parola Dress - Black/Natural
$98.00–$102.00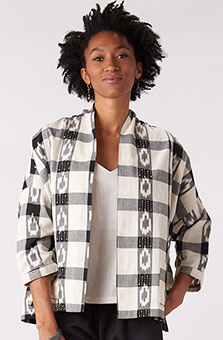 Pavaki Jacket - Natural/Black
Write a review
---
Beautiful Elegant Dress
Apr 1, 2019 | By Sherry Hazelton
I love cotton and this dress is made of beautiful, smooth, heavy cotton. I love the flow of how the dress frames my body making it very flattering--not quite " princess seams" but it lays like that over my body. I can wear it with a shrug or with a cotton jacket or with a long cotton duster and dress it up or wear it casually. I liked it so much I purchased one in red.
---
perfect little black dress
Apr 6, 2019 | By Pamela Christie
The fabric feels delicious against my skin, and the drape is extremely flattering. I'm now getting compliments on old accessories that no one noticed til I started wearing them with this dress. It's understated and classy - the perfect backdrop for quietly elegant jewelry, scarves and jackets. I wish they'd make this one in grey and sepia.
---
Great dress
May 1, 2019 | By Joni
Love the black dress! I only wish it came in extra small as the size is too generous. If it did I'd buy two more!
---
Supriya Dress - Black
Jun 18, 2019 | By Judith P.
I absolutely love this simple black dress. The S fits my medium-size body perfectly. And I was pleasantly surprised by the quality of the fabric. This was my first order from Marketplace, but it won't be my last.
---
Great Fit and Washes Well
Jul 2, 2019 | By Alice
A very comfortable dress. Fits true to size and washes very well.
---
This is perfect
Jan 20, 2020 | By Kathleen Connell
I have a lot of jackets and was looking for the perfect dress to wear under them. This is it! Now if it were just available in some other colors as well as black.
---
So very long! :(
Jun 13, 2022 | By Marlee K
I wanted to love this dress. I'm 5'2" and wear 1W. I thought I could deal with the length, but I just couldn't. It fit perfectly, i need a black dress, and it has pockets. But the length. It looked like I was wearing a nightgown. Having it shortened would cost another $30 for an already expensive dress, so I returned it. I hope Marketplace will make some dresses whose length are between the extremes of 38" and 50". 42" would be nice.
---
Comfy and flattering
Sep 21, 2022 | By Kate
I bought the block-print version of the Supriya dress and loved the cut and drape so well that I bought the black, too, for my "little black dress." I like that it's sleeveless, so I can dress it up with a sweater or jacket or light wrap or just be cool. Great with sandals, and when the weather cools off, I'll experiment with leggings and long-sleeved undershirts. I would buy this in more colors, for sure.
---