International Youth Day Celebrations
The artisans' children ages 12 and up celebrated International Youth Day on August 12, 2021. It was a day of refection, fun and connection. While they enjoyed getting to know one another, they also discussed serious topics that mattered to them, their communities and the world at large. These important subjects included the caste system, gender equality, the environment, and lack of medical facilities during the pandemic. They were gifted wristbands and the celebrations ended with refreshments.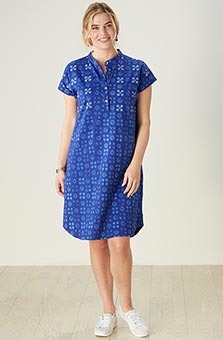 Jameel Dress - Lapis
$98.00–$120.00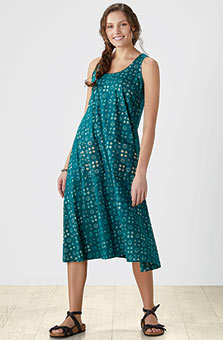 Supriya Dress - Dark emerald
$88.00–$92.00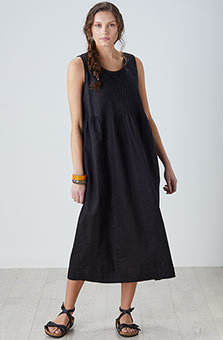 Ragini Dress - Black
$98.00–$102.00
CUSTOMER REVIEWS





Wonderful dress!!
May 27, 2022
By Amy Seiders
The fabric for this dress is a tight knit (like t-shirt material) and just a wonderful weight for a nice drape and swirl without it feeling like it is going to stretch out. It is completely opaque and the blue stripes are lovely shades! My new favorite dress!





The Perfect summer dress
May 26, 2022
By Cindi Silverman
This is the summer dress I've been waiting for, that finally flatters me! What better review can I say than I ran right out to order the same style in another color!





What a great summer dress
May 25, 2022
By Esther Weiss
Whether you're going on errands or to a party - this is such a bright, cheerful summer dress !





Blue Dress
May 10, 2022
By BL
I love the material!! So soft and pure. The size was a little big in the bust, but thought it would be that way when I ordered. The size was true to info provided.





Excited
Mar 30, 2022
By Barb Gandy
The dress fits perfectly. The color is beautiful. I look forward to wearing it this summer.





Blue calls me
Mar 30, 2022
By Joy
Getting ready for warmer months with this comfortable and versatile dress. I ordered a complimentary pullover shirt to go with it as well as a cotton cardigan all from Market Place. The different options make this a great travel piece and the colors and patterns of all three pieces ads interest and style. The quality of the material is the reason I keep coming back to Market Place.





perfect
Mar 28, 2022
By Susan Hitchler
This dress is perfect. It is well made and fits beautifully - thank you