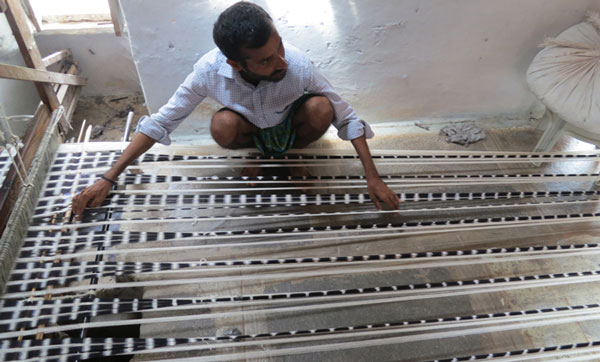 Woven Wizardry
Ikat is an extremely tricky process which produces a unique fabric. Most other fabrics are woven and then dyed, but in ikat the threads are dyed before being woven into cloth. Threads are bundled, tied with a dye–resistant material, and then dyed. The process can be repeated for more colors and complexity. For single ikat only the warp threads undergo this treatment, and the weft are left natural or dyed a solid color. In double ikat both warp and weft threads are bundled and dyed. The goal is to have a planned design come together in the woven piece. If successful, ikat produces designs with a characteristic feathery edge. This look is so prized it is often copied on machine–printed cloth, but there is no substitute for the real thing.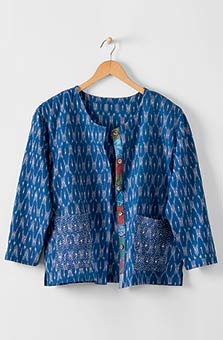 Dharika Top - Sapphire/Chindi
$78.00–$82.00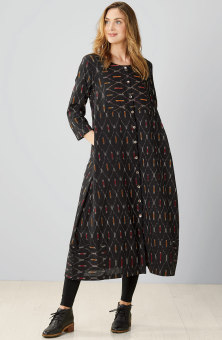 Suvrana Dress - Black/Multi
$108.00–$112.00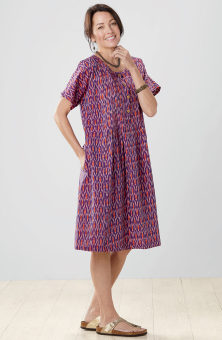 Chameli Dress - Wood violet/Multi
$104.00–$108.00
Write a review
---
Gorgeous Detail work
Apr 4, 2022 | By Maureen O'Donnell
Love the embroidery that decorates the upper part of this otherwise light and breezy dress! It's just so pretty!
---
Everyday wonder
May 11, 2022 | By Sandra S
A great "house dress"- roomy and comfortable. I like the longer sleeves since it helps disguise my arms and the cut and drape of the dress is nice. the detail stitching, as always, adds a lovely touch so no need for jewelry or such unless you want to "dress it up". It fits well through the chest and shoulders and skirt is loose enough not to bind up when working or sitting. Length is perfect for me but I'm quite tall- 5'11" - others may find it too long. and the color is spectacular.
---
Beautiful, comfortable, lightweight and just basically perfect
May 20, 2022 | By Laura Crary
I bought this dress to wear under my academic regalia to deliver a commencement address, and then to the party afterward. The color is the signature color of my college. I loved having pockets, since academic gowns have none. Also, outdoor commencement ceremonies get really hot, especially with those black polyester robes, The lightweight cotton of this dress made it a lot less unpleasant. At the party, I received many compliments on the dress. Again, the pockets were really appreciated. It's just a wonderful warm-weather dress. I love Marketplace of India clothes. I have a lot of pants, blouses, tunics, overalls, jumpers, and dresses. They make me so happy.
---
Love This Dress
Jun 22, 2022 | By Louan
Love this dress. It's my third from Marketplace India. They are all comfortable and fun to wear.
---
Lovely dress
Jul 12, 2022 | By Maria gordanier
This is a comfortable cheery dress I enjoy wearing as it is pretty and striking too. Very good in warm climates and easy to wear.
---
Love it, but...
Jul 26, 2022 | By Cheryl
This dress is absolutely beautiful and I can't wait to wear it. But there's one problem. The arm holes are ridiculously small and my arms are bigger than that. I need to take the dress to the tailor and have the armholes made bigger, but it's definitely worth it for how beautiful this dress is and how much I like it. I know it will become one of my favorites!
---