A Library At The Education For Life Program
The Education for Life program has partnered with the Share A Book India Association to establish a library at the center. The EFL children were totally involved in choosing and displaying books. They could hardly believe they could not only attend reading sessions at the center, but also take books home! Their mothers also play a part incorporating books into their home lives. Sometimes the mothers read to the children, and sometimes, if the mothers cannot read, the children read to them.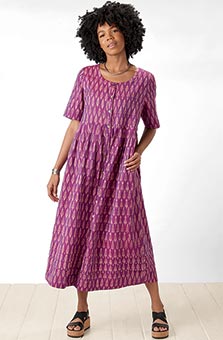 Miraya Dress - Orchid
$118.00–$124.00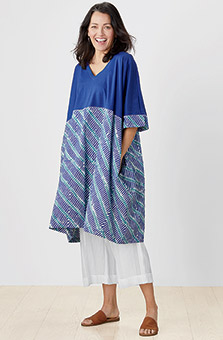 Irla Dress - Ink blue
$89.00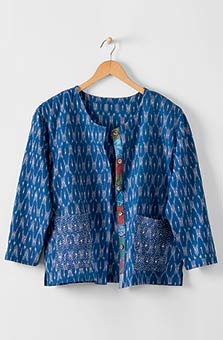 Dharika Top - Sapphire/Chindi
$78.00–$82.00
CUSTOMER REVIEWS





Love This Dress
Jun 22, 2022
By Louan
Love this dress. It's my third from Marketplace India. They are all comfortable and fun to wear.





Beautiful, comfortable, lightweight and just basically perfect
May 20, 2022
By Laura Crary
I bought this dress to wear under my academic regalia to deliver a commencement address, and then to the party afterward. The color is the signature color of my college. I loved having pockets, since academic gowns have none. Also, outdoor commencement ceremonies get really hot, especially with those black polyester robes, The lightweight cotton of this dress made it a lot less unpleasant. At the party, I received many compliments on the dress. Again, the pockets were really appreciated. It's just a wonderful warm-weather dress. I love Marketplace of India clothes. I have a lot of pants, blouses, tunics, overalls, jumpers, and dresses. They make me so happy.





Everyday wonder
May 11, 2022
By Sandra S
A great "house dress"- roomy and comfortable. I like the longer sleeves since it helps disguise my arms and the cut and drape of the dress is nice. the detail stitching, as always, adds a lovely touch so no need for jewelry or such unless you want to "dress it up". It fits well through the chest and shoulders and skirt is loose enough not to bind up when working or sitting. Length is perfect for me but I'm quite tall- 5'11" - others may find it too long. and the color is spectacular.





Gorgeous Detail work
Apr 4, 2022
By Maureen O'Donnell
Love the embroidery that decorates the upper part of this otherwise light and breezy dress! It's just so pretty!