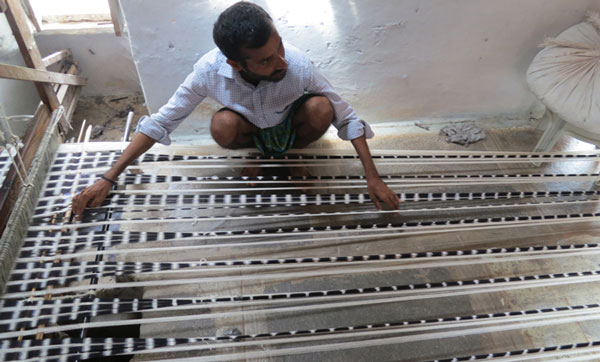 Woven Wizardry
Ikat is an extremely tricky process which produces a unique fabric. Most other fabrics are woven and then dyed, but in ikat the threads are dyed before being woven into cloth. Threads are bundled, tied with a dye–resistant material, and then dyed. The process can be repeated for more colors and complexity. For single ikat only the warp threads undergo this treatment, and the weft are left natural or dyed a solid color. In double ikat both warp and weft threads are bundled and dyed. The goal is to have a planned design come together in the woven piece. If successful, ikat produces designs with a characteristic feathery edge. This look is so prized it is often copied on machine–printed cloth, but there is no substitute for the real thing.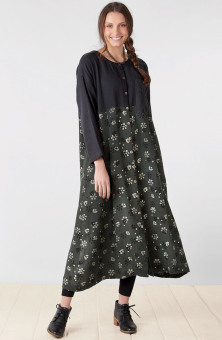 Benali Dress - Fir/Black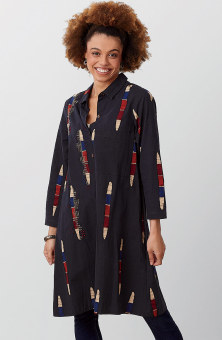 Nahila Shirt - Black/Multi
$128.00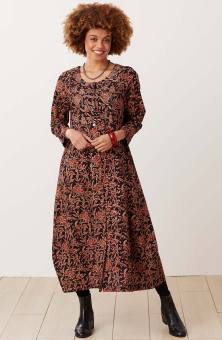 Suvrana Dress - Black/Multi
$118.00
Write a review
---
Simply Beautiful
Sep 5, 2022 | By Chris
This dress fits well and is well made. I am usually a size L, but always buy my dresses here in a M and they fit well. It's cuter than it even looks in the catalog.
---
My husband said
Sep 19, 2022 | By Barbara
It's been a bit rough with shopping online. And then I saw this dress and I thought, "I'll order it!" I am a trifle larger because of medications I need to take and so finding a dress has been hard. This dress, I put it on and SMILED. I walked right out to my husband in the next room and he did not need prompting and fell in love with this dress also. It hides "things" well and it modest enough for office work or a party. Also the IKAT gives it a beautiful texture. It's my favorite piece of clothing and to finally find a dress that is well made and looks great, well I'm over the moon. Thank you.
---
Suvrana Dress -Women's size
Nov 1, 2022 | By Christina Creveling
I ordered this in two sizes, despite the description of its easy fit. The large was fine, but the W size enabled it to move around in a way that I found more attractive. But either look is terrific--I'm sure I'll be wearing it on many varied occasions for years to come.
---
Not my style
Nov 18, 2022 | By Myra Crystal
Lovely fabric if somewhat thin for fall, beautiful embroidery and workmanship. BUT I returned this dress because the empire styling is just too unflattering for a long waisted figure. Please consider more shirtwaist styles, perhaps in the same fabric?
---
Love this dress!
May 3, 2023 | By Jeanine Thompson
Very soft cotton, beautifully created dress! It washes well too.
---
Beautiful dress
May 23, 2023 | By Colleen Powell
Just came in the mail. Love this dress. So soft and the colors are really nice.
---