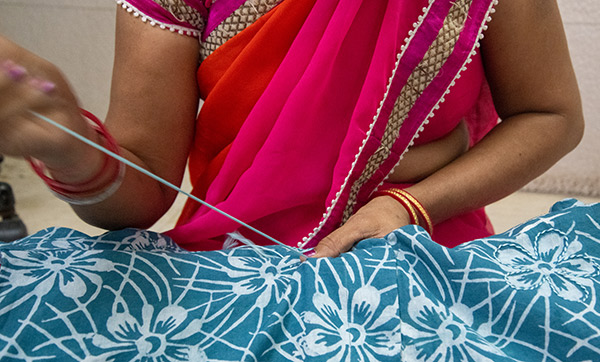 Reaffirming The Commitment To Work:
Seeing how the women responded to all the challenges of COVID restrictions with energy and a can–do spirit showed us how impactful our empowerment programs have been. It reinforced our belief that when women are exposed to resources and new ideas, they can take charge and make changes. The women have been determined to work and have come up with very creative ways to get to their workshops and to obtain supplies even when stores were closed.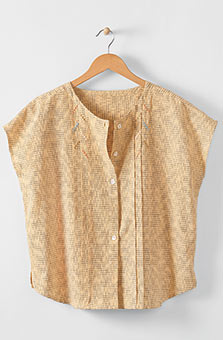 Savya Top with Pintucks - Light mango
$68.00–$72.00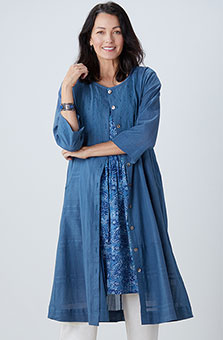 Bhavika Long Shirt - Ink blue
$98.00–$102.00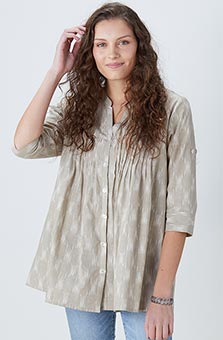 Vaishali Tunic - Sand
Write a review
---
Lovely Tunic
Apr 9, 2021 | By Susan
I am happy with my purchase. The Tijara tunic is exactly as shown in the catalog and fits true to size. The fabric is pleasing. The style is practical and versatile. I am tempted to add a bit of my own embroidery to the ikat designs!
---
Raves
Apr 27, 2021 | By JoWynn Johns
I love the fabric--the feel, the subtle color, and the subtle print. I love the fine stitching, especially the pin tucks with the running stitch embellished with cross stitches. I love the design. None of this, quality this high, was possible 30 years ago when I began buying, wearing, and getting compliments on your clothes. Artisans, you've come a long way!
---
great quality and comfort
May 13, 2021 | By Maggie L.
I've received nothing but compliments wearing this tunic. I wear it over tapered khaki pants for work, and flowing white pants for casual. So comfortable while so stylish. I appreciate the concept and the work of Marketplace Handwork of India.
---