Design In A New Light:
At an organizational level we have had to redesign many systems, procedures and structures to accommodate new realities. For example, our designer Adele Mattern could not make her usual trips to India to work with the women at the embroidery workshops and finalize the lines. Instead we changed to replace in–person meetings with more Zoom calls, WhatsApp messages and by sending tons of photographs and samples back and forth. It was a cumbersome process, but it worked more smoothly with time and experience.
Nashita Shirt - Flax/Crystal rose
$79.00–$82.00
Mathura Tee - Crystal rose/Multi
$59.00–$62.00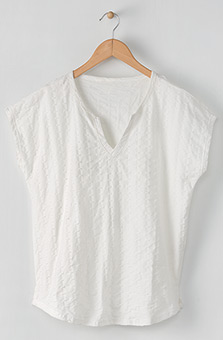 Notch-neck Tee - White
$39.00–$42.00
CUSTOMER REVIEWS





Mopmop
Jul 9, 2021
By Marty E Rauser
Excellent fit, beautiful colors





Tivisha's shirt
Apr 5, 2021
By Sacha Rukin RN
This button up shirt is beautifully stitched with vibrant colors and soft fabric. Their sizing is large. I usually order a large size 14 US but I order a Medium at Marketplace and they all fit well.





Goes with Nashita shirt
Mar 29, 2021
By Carolyn
This Tee shirt dresses up the Nashita shirt and makes the outfit quite something else, which is why i bought it. i would wear the two with a pencil skirt for any occasion.