Mehak Parmar Interviews Her Grandmother Sitaben Parmar
During the summer of 2021, the children of the artisans were asked talk to their grandparent to learn how things had changed. "My grandmother mentioned that in their time less importance was given to education, especially for girls. The best thing I found is that she really likes spending time with me and taking care of me. I am very close to my grandmother but I didn't know that she also really liked spending time with me."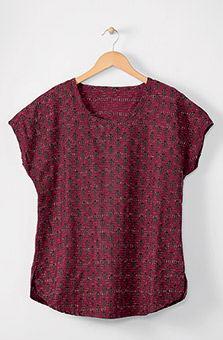 Bimala Top - Port
$72.00–$76.00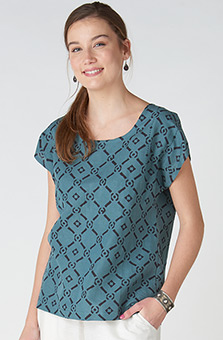 Tivisha Top - Agate
$62.00–$65.00
Suhani Top - Navy
CUSTOMER REVIEWS





Love it!
Mar 13, 2021
By Lynda
The color combo is great!





Great top, great design, but narrow fit
Sep 17, 2020
By Joyce Wilson
This top is what I expected from the catalogue listing. It is comfortable and attractive. The fit across the shoulders is fine for me (I bought a size small) but at the hips it is much too narrow. So I added three-inch triangular inserts to each side seam!