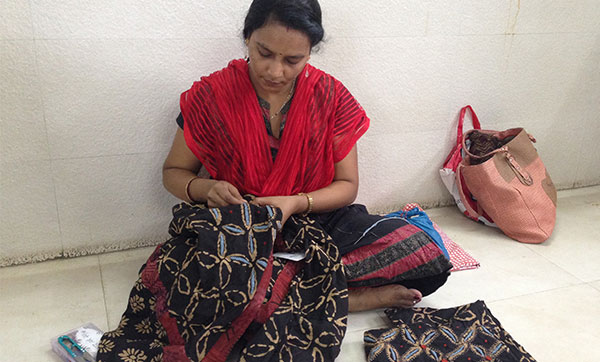 Running Stitch To Success
The charming hand embroidery on all MarketPlace garments is an important part of the empowerment program. Because it can be started with minimal training, it allows women to get a quick start on earning much-needed income. They can also fit it into their own schedule of household and childcare responsibilities by working at home without having to pay for childcare or equipment.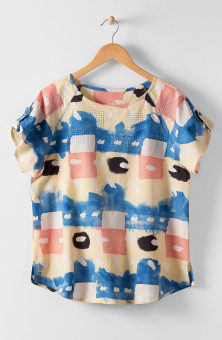 Nadia Top - Buttermilk/Multi
$75.00–$78.00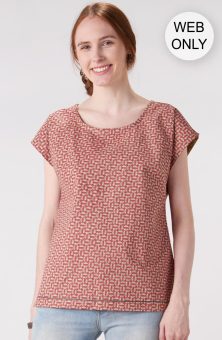 Tivisha Organic Top - Sunwashed red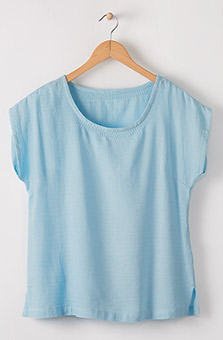 Tivisha Top - Cottage blue
Write a review
---
Neat geometric print
Apr 2, 2021 | By Ginny
I liked the unusual color of this top and the fact that it was hand printed. I also liked the shape of the cut. The "sleeves" are just the right length to be flattering. The fit was just right for me.
---
Understated Elegance
Apr 24, 2021 | By Gina
This top makes a statement. With its unique design and subtle teal background, it is the perfect accompaniment to black pants. Elegant and mesmerizing.
Size Medium is true.

---
Lovely
Jun 5, 2021 | By Kath Saunders
Lovely top. Beautiful color, nice comfortable fit. Will get a lot of wear this summer.
---
Love the feel
Aug 16, 2023 | By May
Perfect fit. I love the linen cotton mix. Another win!
---