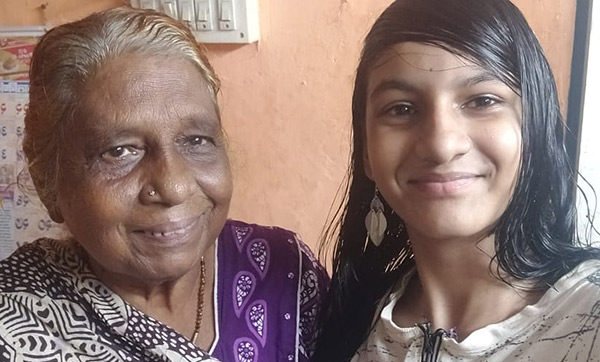 Prajakta Medhe Interviews Her Grandmother Sevanti Medhe
During the summer of 2021, the children of the artisans were asked talk to their grandparent to learn how things had changed. "My grandmother told me how they used letters and telegrams in their times. Today we just make a call and our uncle comes to pick us up at the railway station. There was no way to tell if the trains got late or there was any problem on the way. What I really like about my grandmother is that she is a very caring person."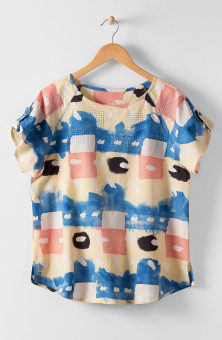 Nadia Top - Buttermilk/Multi
$75.00–$78.00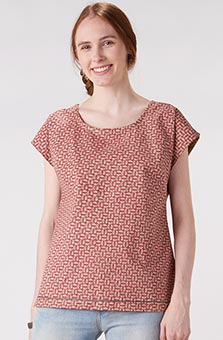 Tivisha Organic Top - Sunwashed red
$62.00–$66.00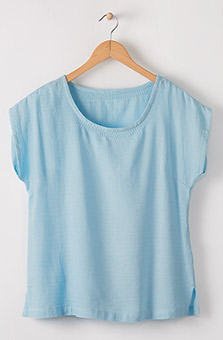 Tivisha Top - Cottage blue
$42.00–$45.00
Write a review
---
Neat geometric print
Apr 2, 2021 | By Ginny
I liked the unusual color of this top and the fact that it was hand printed. I also liked the shape of the cut. The "sleeves" are just the right length to be flattering. The fit was just right for me.
---
Understated Elegance
Apr 24, 2021 | By Gina
This top makes a statement. With its unique design and subtle teal background, it is the perfect accompaniment to black pants. Elegant and mesmerizing.
Size Medium is true.

---
Lovely
Jun 5, 2021 | By Kath Saunders
Lovely top. Beautiful color, nice comfortable fit. Will get a lot of wear this summer.
---