Kalamkari:
The word Kalamkari is derived from a Persian word where 'kalam' means pen and 'kari' refers to craftsmanship. Initially Kalamkari fabrics were hand painted but today wooden carved blocks are used. Kalamkari textiles were a prized trading commodity throughout Asia and Europe for hundreds of years. This traditional art has survived among dedicated artisans in southern India who follow the age–old techniques and natural dye recipes of this painstaking process. The process can involve 23 steps each requiring precision and an eye for detailing.
Sujaya Top - Grey
$79.00–$82.00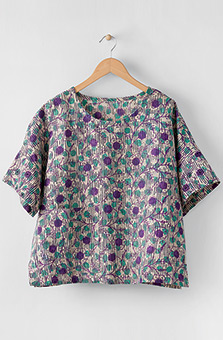 Shalini Top - Flax/Purple
$72.00–$75.00
Anuja Tunic - Carnelian
$79.00–$82.00
CUSTOMER REVIEWS





Lovely top
Oct 13, 2020
By Ms. P
A fabulous top for hot weather - good quality soft cotton, it drapes well, is versatile because it's ample styling allows one to wear long sleeves underneath in cooler weather, or on its own in the heat, and a big plus in my book is its well positioned and generous pockets. Women need pockets too. MarketplaceIndia is welL worth supporting.





pauline
Aug 10, 2020
By Pauline Snider
Fabric and quality are 5 star. I gave it a 4-star rating only because it is enormous. I normally wear a medium and sometimes a large (if retailer's clothes are for younger women), and this S-L is REALLY big on me. However, I'm still going to wear it! Just wish it were a little smaller.





Love the Look!
Jun 21, 2020
By Marika
This is the reason I go back to Marketplace for everyday clothes! The fabric has a unique design. It's cotton and comfortably light in our hot and humid climate. It fits loose yet attractive on my pear shape body.





Runs oversized
May 3, 2020
By Viridian61
A pretty top in a pretty fabric, but fit is very loose and runs oversized.