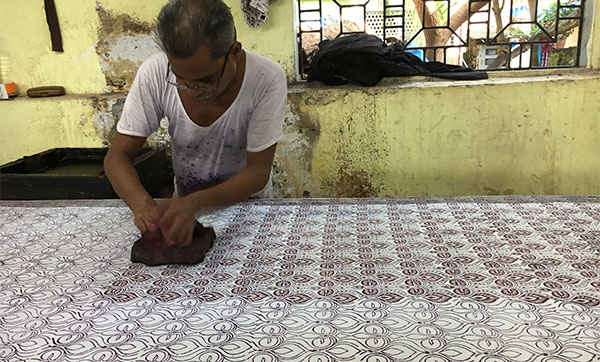 Artisanal Opportunities
MarketPlace works with small groups of fabric artisans who are keeping alive traditional weaving and dyeing techniques. They block print by hand, hand batik and weave the fabrics that become unique MarketPlace products. These exacting and labor-intensive practices increase employment for artisans in and outside of the city.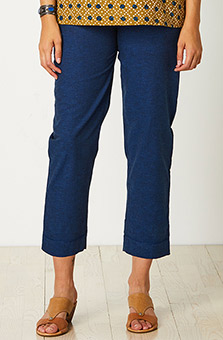 Kavya Pant - Indigo
$72.00–$76.00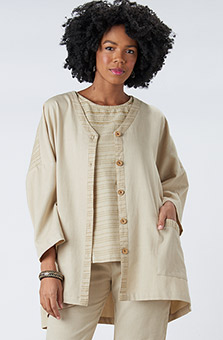 Monia Jacket - Almond
$98.00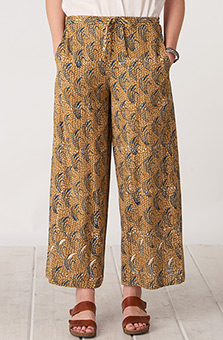 Sangli Pant - Wheat/Indigo
Write a review
---
Raves
Apr 14, 2021 | By JoWynn Johns
On my walk this morning I received enthusiastic compliments on my jacket from two strangers, separately. One commented on the jacket as a whole; the other also commented on the fabric, the print. I love this jacket altogether, but especially the embroidery, the fishbone stitch and the neat straight stitches in lines. Beautiful.
---
Beautiful outfit!
Apr 19, 2021 | By Ann Brown
I bought the jacket, shell, and pants. Perfect outfit for the shower I'm attending next month. Everything washed beautifully. Good quality, very well made. Just as pictured although I'm not as slim as the model! Fits true to size.
---
Returned, way too big
Jul 9, 2021 | By Kristine Kelley
This jacket literally appeared like a tent of too much fabric. Beautiful print however could be sized like a mens robe, no shape what so over. Very unbecoming even as an overshirt/ jacket. Returned.
---
Beautiful colors and workmanship
Aug 24, 2022 | By Cheryl Gianopoulos
I am so please with my new jacket from Marketplace. It's even prettier in person! The fit is perfect as is the workmanship which never disappoints me. The pop of the indigo color on the wheat print and the perfect finishing touch of embroidery makes this a true work of art. Thank you so much artisans of Marketplace Handwork of India!
---