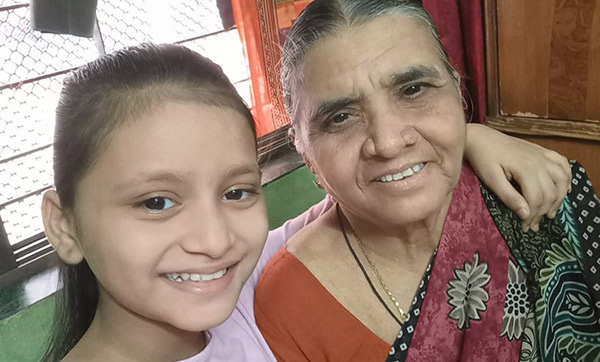 Mehak Parmar Interviews Her Grandmother Sitaben Parmar
During the summer of 2021, the children of the artisans were asked talk to their grandparent to learn how things had changed. "My grandmother mentioned that in their time less importance was given to education, especially for girls. The best thing I found is that she really likes spending time with me and taking care of me. I am very close to my grandmother but I didn't know that she also really liked spending time with me."
Usha Jacket - Wheat/Indigo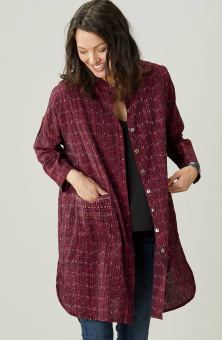 Usha Jacket - Port
$98.00–$104.00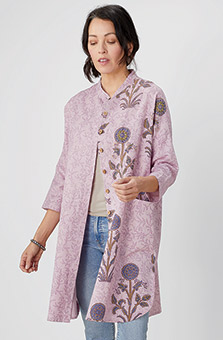 Usha Jacket - Lavender
$98.00–$104.00
Write a review
---
Linen jacket
Apr 7, 2021 | By Anne
I love everything about this jacket. The color, the linen fabric, and its preshrunk. Perfect for this summer!
---
Great color great style
May 5, 2021 | By S
Lovely even on woman not rail thin. Very flattering and flexible w wardrobe
---
Gorgeous, and big
Jun 11, 2021 | By Amy M
I love this shirt -- the color, the pattern, the overall look. But they aren't kidding about it being oversized. I am pear-shaped and need size XL Marketplace pants, but in this shirt size medium swam on me. The size small goes around my hips with ample ease.
---
Lovely jacket
Jun 16, 2021 | By Myra Crystal
Pretty soft blue, beautiful thick-and-thin handwoven fabric in a simple very wearable style. Complements my other many garments purchased from you. Love the long length and elegant she'll buttons.
---
Beautiful and useful.
Jun 24, 2021 | By Michal
This was more than I usually spend, but I'm glad I did. The translucent fabric has a beautiful texture, perfect for summer. The color is even lovelier than it appears in the photo, a dusty blue. Excellent quality in the construction. I'm 5'0" and usually take a size PM. The size S fits well in the body with room to spare (as I prefer). It reaches to my knees, but that's OK.
---
Nice jacket
Nov 27, 2021 | By Auntie. Mush
I bought this to go with some pants of the same color that I didn't wear because I didn't have a top to go with them. The jacket is a very open weave and is lighter than what it appears in the catalogue, closer to the same color as my pants. Fit well and I look forward to wearing it when it gets warm again.
---
not as expected
Nov 29, 2021 | By Joy
I'm sure the garment would have been lovely, but the color was grey with blue threads, not soft green as pictured. I returned the item.
---
Way too big!
Jan 24, 2022 | By Toby Spitz
Lovely color and texture, the sizing is way off the size small is huge.
---