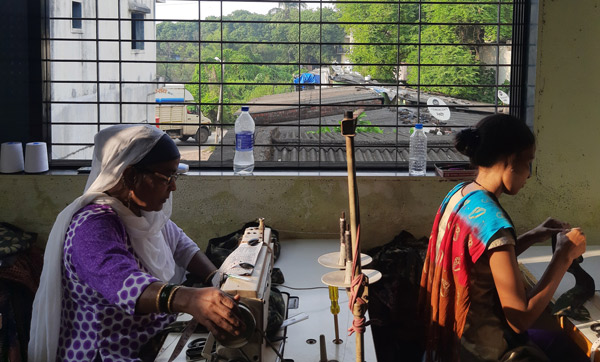 Ghar Udyog Collective Define Their Brand
Ghar Udyog is situated in Uttan, roughly 46 km from Mumbai. Located on the coast, the surrounding area is a fairly rural area and Uttan is like a large village. This group consists of 13 tailors, 14 embroidery artisans and one supervisor. It's an interesting mixture of young and older women who originate from different parts of India. While the sewing is done at Uttan, the embroidery artisans live in Bhavander, a short distance away. The geography makes it imperative that everyone can communicate clearly and frequently with their cooperative members and staff in Mumbai. They are very committed to all the social programs for personal development and social improvement. They are also good at locating useful resources in their community. They feel these aspects describe them:

1.Teamwork
2.Unity
3.Support Each Other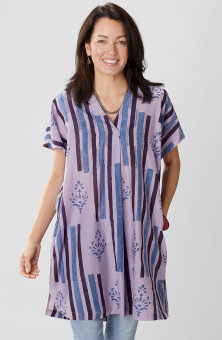 Najwa Kaftan - Lavender
$128.00–$132.00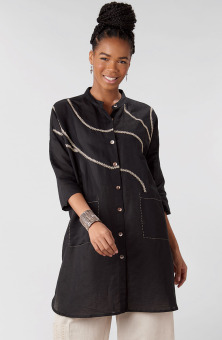 Usha Jacket - Black
$124.00–$128.00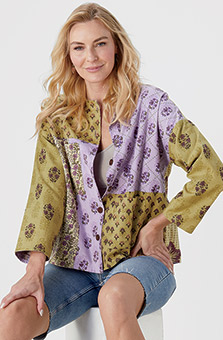 Reversible Zaina Jacket - Verbena/Lavender
Write a review
---
The photo doesn't do this justice!
Mar 30, 2022 | By Sara
This is a beautiful jacket. Dress it up, dress it down, it will be a favorite. It is the expected lovely work from MarketPlace.
---
Pretty
Sep 8, 2022 | By Katherine King
This lavender Usha jacket is pretty, and the material is nice. Two drawbacks: the sleeves are longer than 3/4, at least on my arms, and there are too many tiny buttons. The buttonholes are just barely big enough for the buttons, so it is a little difficult to button and unbutton it.
---