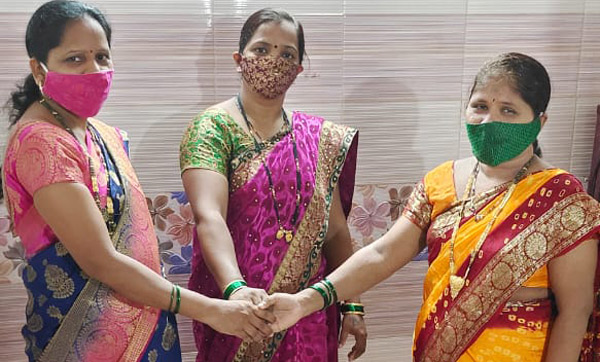 Ekta Cooperative Define Their Brand
Starting a cooperative requires great commitment and dedication from the prospective artisans. Ekta went through this process in 2017. There were bumps along the way as some women left and others joined, disrupting training, organizing and threatening unity. The spirit and determination of this group helped them succeed and now they have a productive group of 5 tailors, 2 embroidery artisans, one manager and one supervisor. Many are young mothers who feel optimistic about the future of their families and communities. This group is dedicated to the "Say no to plastic" program to improve the environment and neighborhood. They made cloth bags from leftover fabric to distribute in the community. They felt the following described them:

1.Teamwork
2.Unity
3.Fun Together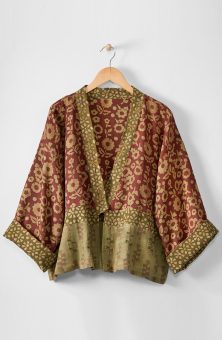 Sikkim Jacket - Redwood/Curry leaf
$88.00–$92.00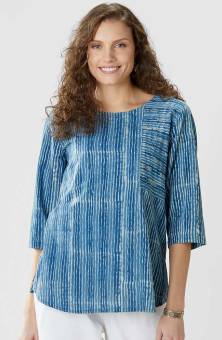 Divya Top - Indigo
$82.00–$86.00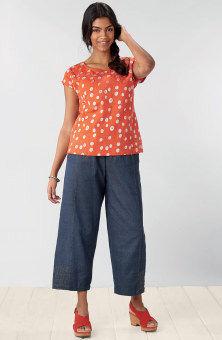 Recycled Yarn Kesari Pant - Denim
$88.00–$92.00
Write a review
---
Wonderful purchase
Aug 31, 2022 | By Lewan
Received my order promptly which was helpful as I wanted to take on vacation. Washed well delicate cycle, no need to iron. Received multiple compliments. VERY PLEASED. I'm certain I will purchase from Marketplace again!
---
What a great top!
Oct 16, 2022 | By Therry Neilsen-Steinhardt
This top is a complete winner. Not only is the fabric a crepe with the perfect change of seasons weight, but the cut is so graceful and the colors are to DIE for! The deep smoky brown red and the warm deep green are lovely together, and the print is a very nice scale. The Embroidery on the green fabric is a lovely flower shaped warm gold thread that deepens the color complement. The cut is particularly flattering for this Apple, and the whole thing just feels wonderful! A new favorite from my favorite catalog.
---