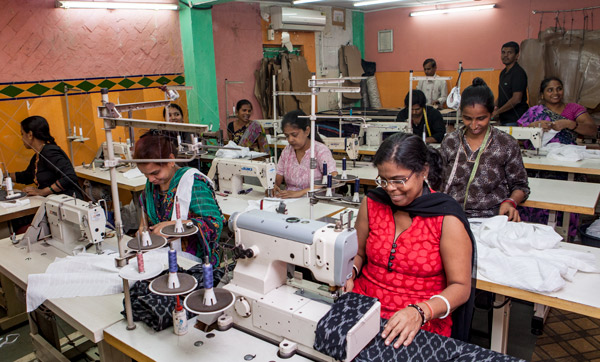 Nirmaan Cooperative Define Their Brand
Nirmaan is one of the oldest and largest groups, consisting of 12 tailors, 20 embroidery artisans, one cutter and two supervisors. Some of the artisans have actually been there for 30 years, and they have seen much growth. When clashes arise in the group, these elders often can intervene with wise suggestions to defuse the situation. It is a lively group, but everyone has the same goal. Whenever a change is considered, they hash it out before coming to a consensus. They love learning new things and are always eager to participate in social programs and events. Nirmaan chose these four aspects to describe their identity:

1.Unity
2.Hard Work
3.Quality
4.Communication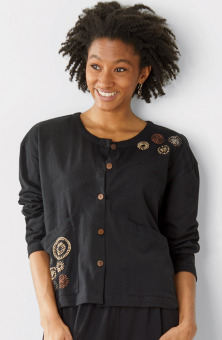 Gauri Cardigan - Black
$74.00–$78.00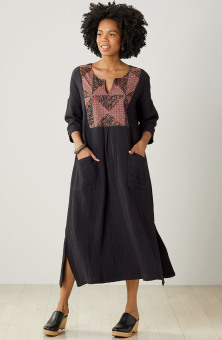 Reshma Kaftan - Black/Chindi
$118.00–$122.00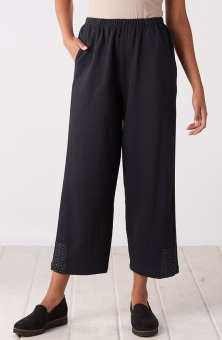 Kesari Pant - Black
$72.00–$76.00
Write a review
---
Darling Outfit
Sep 11, 2022 | By Judith Andrews
I got the Vishram Pant to match the cardigan. It makes a stunning outfit.
---
if you're thinking about buying these - do it!
Oct 14, 2022 | By Karen
I'm glad I bought these pants. So well-made with quality fabrics and a generous cut. Thank you for a wonderful product.
---