A Positive Change
Many artisans have really risen to the challenges of 2020. Komal from SMM Cooperative used to be shy, insecure and spoke very little. Although she had a motor scooter, she was uncomfortable when people asked her to use it to do errands for the group. Yet when public and private transportation were halted, she jumped right in to volunteer her services. Taking on and succeeding at this responsibility has increased her confidence, and she has gone on to join the group responsible for Quality Control.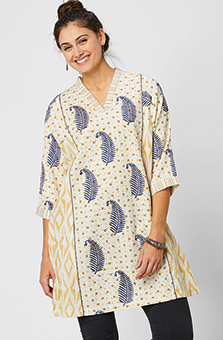 Sanika Kurta - Flax/Indigo
$88.00–$92.00
Adira Shirt - Natural
$49.00–$52.00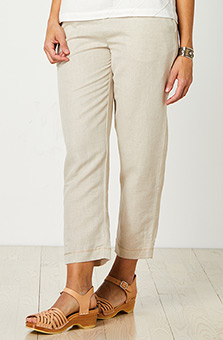 Kavya Pant - Flax
$74.00–$78.00
CUSTOMER REVIEWS





Wonderful pants
Jun 30, 2021
By Cheryl
Love, love, love these pants. They are attractive, unusual, and oh so cool.





completes my Judi Dench look
Jun 9, 2021
By Rita Qugley
I got my voile culottes just in time for our unprecedented heat wave. They fit perfectly and have such a lovely detail stitch for the hem. I am pleased to give up the too warm leggings I had been wearing. Now I feel I have achieved the casual but elegant look which Judi Dench made popular in the movie, Best Exotic Marigold Hotel.





Lovely
Apr 1, 2021
By Bridget
Wonderful quality. Beautiful fabric and stitching.