Taking Advantage of the Time Out
Udyog Kala Kendra, the workshop which produces much of our block print and batik fabrics, is usually humming with activity. The printing blocks tended to pile up here and there, making it difficult to find any particular one. The enforced work stoppage gave them the opportunity to do a massive workshop reorganization. Over 120 carved wood blocks were cleaned up, divided into categories and carefully catalogued according to size and pattern. This will prove very useful in the future — no more hunting!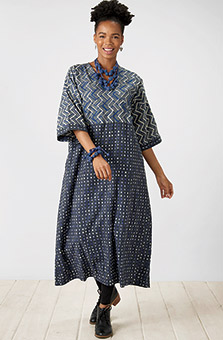 Jyothika Dress - Mineral
$92.00–$96.00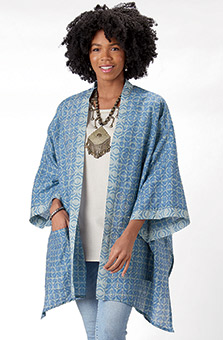 Kavasi Jacket - Sea blue
$125.00
Meenu Tank - Cerulean
CUSTOMER REVIEWS





Loose and flowing
Jun 21, 2021
By mk mulligan
This dress is long, loose and flowing. It is perfect for hot , humid summer days. The combination of fabrics makes it interesting, and the V neck is flattering.





Lovely, but sheer
Sep 30, 2020
By Gina
I really like the design and colors of this dress. The fit and finish was as I expected. What I didn't expect was the sheer fabric. Any place that wasn't snug against me, like the bodice, was very translucent. The fabric is quite soft, but felt fragile. I was buying this as an all purpose around-the-house and run-to-the-store dress, but it felt too delicate for my purposes. I would love to see this same dress in a - for lack of a better word- sturdier fabric. I have sent it back for exchange for another similar dress.