Kalamkari:
The word Kalamkari is derived from a Persian word where 'kalam' means pen and 'kari' refers to craftsmanship. Initially Kalamkari fabrics were hand painted but today wooden carved blocks are used. Kalamkari textiles were a prized trading commodity throughout Asia and Europe for hundreds of years. This traditional art has survived among dedicated artisans in southern India who follow the age–old techniques and natural dye recipes of this painstaking process. The process can involve 23 steps each requiring precision and an eye for detailing.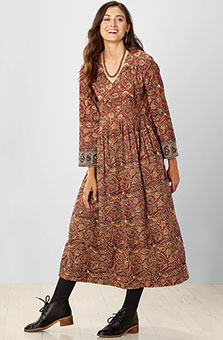 Geethali Dress - Red natural dye
$118.00–$124.00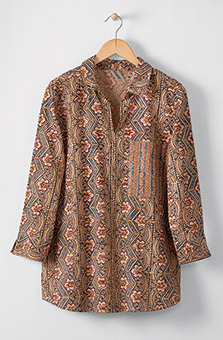 Renuka Tunic - Almond natural dye/Multi
Panhala Jacket - Black natural dye/Multi
CUSTOMER REVIEWS





Zarine dress
Feb 23, 2022
By Rose Lynn Sherr
I have bought several Marketplace dresses over the years and wear them when I am home.. They are attractive and comfortable and I always feel ready for unexpected visits from my neighbors. I love the prints and the fit and like the idea of supporting other women's work.





casual but chic
Feb 16, 2022
By Wiebke Moore
This is a loose dress that could not be more comfortable, however it is still dressy because of the beautifully printed fabric and the hand embroidery.





Comfortable!
Jan 24, 2022
By Sandra Lowen
A bit more roomy than I expected, and we're ordering this again I would get a smaller size. But it is so comfortable that I really don't care that it is roomy. With a necklace and a pair of leggings it is fabulous. Feels great on. Looks fabulous. I really love it.