Aashiyana Cooperative Define Their Brand
Aashiyana was started in 1995, when a group of mothers in the Tulsi Wadi slum wanted to earn a living. It consists of 6 tailors, 8 embroidery artisans, a supervisor–tailor and a manager. Their group truly embodies "perseverance" as they have succeeded despite disadvantages. Their neighborhood is very poor, with serious crime and drug problems. It is also the location of many communal clashes between the Hindu and Muslim residents. Amidst all this, Aashiyana is able to operate out of a tiny workshop. They chose these qualities to describe their identity:

1.Respect
2.Unity
3.Helping each other
4.Perseverance
Voile Culottes - White
$46.00–$49.00
Tijara Tunic - Sand
$92.00–$96.00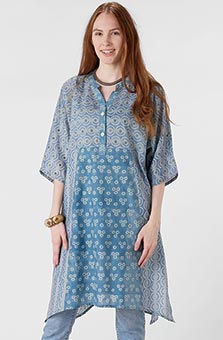 Varda Kurta - Sea blue
$98.00–$102.00
CUSTOMER REVIEWS





Mrs.
Apr 23, 2021
By Jane Droge
They look lovely. Haven't worn them yet. Look forward to warm weather. :)





Super pants
May 16, 2019
By Angela
These are great! Cool and comfortable and very flattering. I've already ordered them in black.





So comfortable and attractive
Jul 23, 2018
By Tracy Leddy
This is the third pair of easy-fitting, comfortable Kesari pants I have purchased. They are my favorite pants. I especially like the cargo pocket with embroidery, and the "monsoon length" is just perfect.