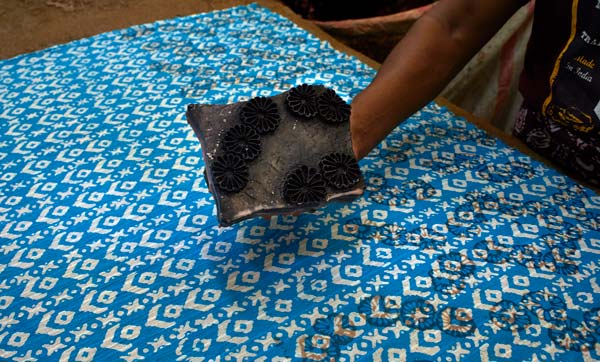 Batik Block Printing
The ancient art of Indian block printing includes distinctive regional styles. In all cases it is a labor–intensive, exacting craft. Teak wood blocks are hand carved with a variety of motifs and there is a wooden handle for the artisan to hold while stamping the cloth. The design can be dipped in dye and stamped directly. However, for Batik block printing the design is stamped with a wax resist which will block the dye when the fabric is dipped in dye. Multiple stampings and dyeing can produce complex patterns and colors. The wax is removed by melting it in very hot water, and the melted wax can be reused. Skilled artisans can combine different techniques to create uniquely beautiful fabrics.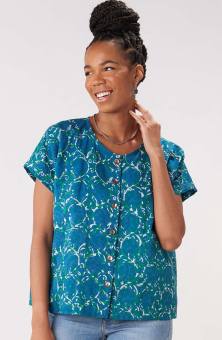 Bela Top - Lapis/Multi
$69.00–$72.00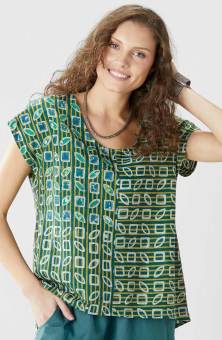 Nandita Top - Dusty teal/Green tea
$94.00–$98.00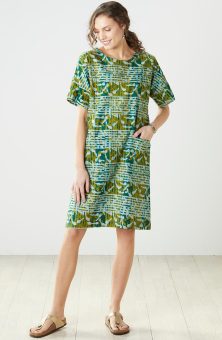 Vishala Shift Dress - Dusty teal/Green tea
$92.00–$96.00
Write a review
---
Pretty colors
Apr 12, 2023 | By Myra Crystal
Loved the soft greens and blues and the silhouette of this top. Unfortunately, I returned it because it was tight in the hips and a bit short. But my biggest reason to return this very pretty top is the pattern placement. It appears as wide horizontal stripes, not flattering for me. However, beautifully made as usual.

---
Wearable Art
May 31, 2023 | By Teresa Wells
I love this top. It's like wearing artwork. So beautiful and well made. The colors are exquisite. Really perks up my wardrobe.
---