Ekta Co-operative Define Their Brand
October 29, 2021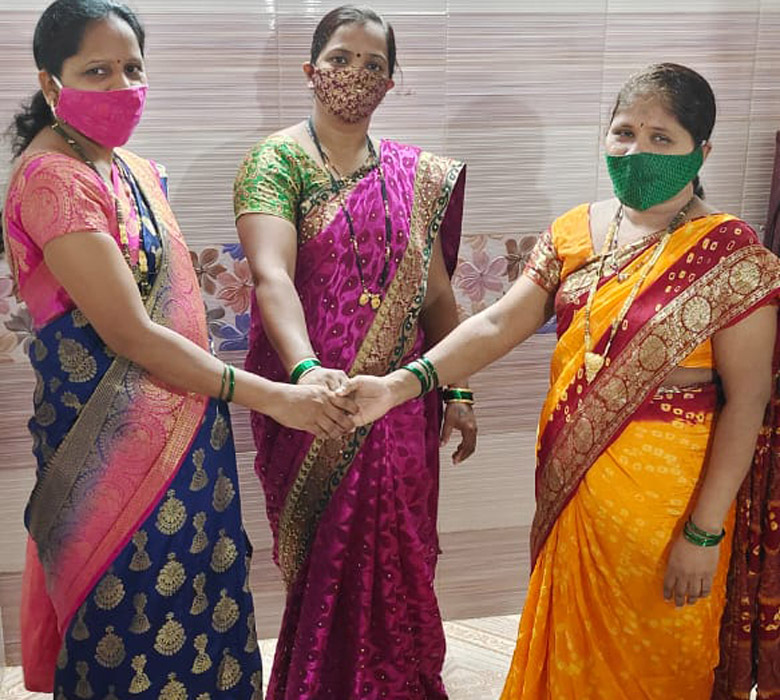 "Branding" is a central concept in Marketing and Advertising, It is important to know who you are, what you stand for and what you want to be identified with. Recently all the artisan groups associated with MarketPlace in Mumbai participated in an exercise to "discover their brand." These groups have many similarities, but each has its own particular character and even temperament, which came out during this activity.
EKTA CO-OPERATIVE
Starting a cooperative is a huge endeavour which requires a great commitment from the prospective artisans. Typically, SHARE begins the process by mobilizing a community, ultimately bringing together a group of women who want to start the cooperative. However, because they have never done anything like this before, there can be some confusion about what is required of them to achieve their ultimate goal. It is not unusual for a new group to have setbacks and frustrations as the new artisans learn how to organize and work together.
Ekta is a relatively new group with young members who are spirited and curious. These qualities have helped them over a few growing pains as the group became established. The group started in 2017 with 8 women. During the initial training period quite a few women left and others joined. This was very disruptive to the program as training in sewing and embroidery is not easy and these comings and goings interrupted and complicated the lessons.
The group currently consists of 5 tailors, 5 embroidery artisans, one manager and one supervisor (who is also an embroidery artisan). They always want to learn new things, whether it is about production or child rearing or self-development. Their group culture is never say No to anything and they are determined to keep learning and improving so that they can get bigger and better orders and salaries. Many are young mothers who have great hopes for their children and feel optimistic about the future. They embraced the Social Change program of "Say No to Plastic," and made cloth bags from leftover fabric which they distributed in the community.
They identified these three aspects that describe their identity.
1. Teamwork
2. Unity
3. Fun together

PRODUCTS MADE BY EKTA CO-OPERATIVE FOR FALL 2021
CLICK ON THE LINKS BELOW TO READ HOW THE OTHER COLLECTIVES AND CO-OPERATIVES DEFINE THEIR BRANDS
Nirmaan Collective
WARE Collective
Sahara Collective
Aashiyana Co-operative
Arpan Co-operative
Ghar Udyog Collective
Ranphul Mahila Mandal Co-operative
Shramik Mahila Mandal Co-operative
Pragati Co-operative