Sahara Collective Define Their Brand
September 06, 2021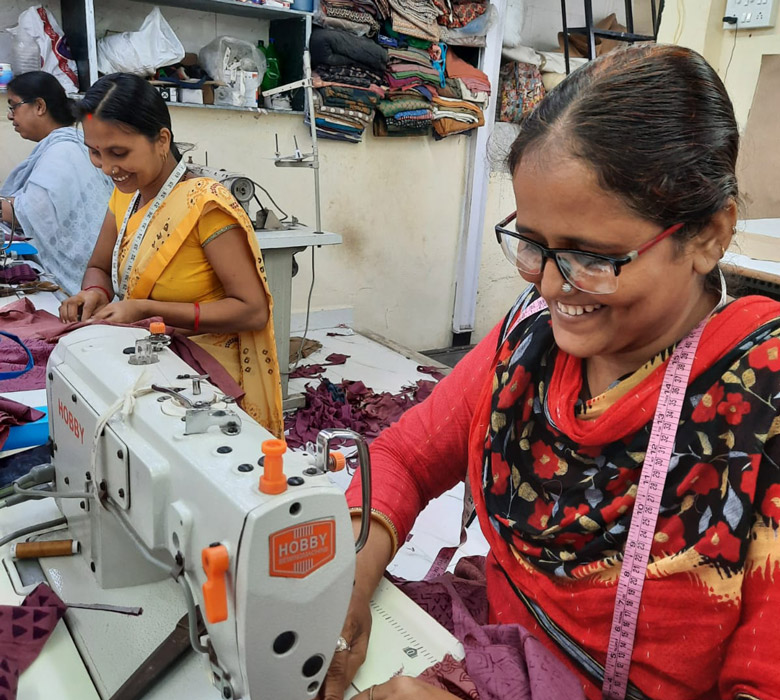 "Branding" is a central concept in Marketing and Advertising, It is important to know who you are, what you stand for and what you want to be identified with. Recently all the artisan groups associated with MarketPlace in Mumbai participated in an exercise to "discover their brand." These groups have many similarities, but each has its own particular character and even temperament, which came out during this activity.
SAHARA COLLECTIVE
Sahara is one of the oldest groups and consists of 10 tailors, 18 embroidery artisans, 2 cutters and one supervisor. Unity is certainly a word to describe the group. The artisans stand by each other, assist each other and go out of their way to help if one of them has a problem. They are very active in all the social programs and community development.
The group is open to new idea and innovation. Aburkani, who leads the group, is an entrepreneur who has secured orders from the local market. This is not easy to do, and requires expertise and effort. The tailors are skilled and are eager to take on new sewing patterns. And when fabric is delivered late and production has to be hurried, we can count on Sahara to put in extra effort.
They are a mixed group of Hindu and Muslim artisans but one will never see any prejudices or rifts. They celebrate the festivals of all faiths, go on picnics and the bonds between the artisans are sometimes closer than to their family members.
They identified these four aspects that describe their identity.
1. Support Each Other
2. Quality
3. Unity
4. Acceptance For All Work

PRODUCTS MADE BY SAHARA FOR FALL 2021
CLICK ON THE LINKS BELOW TO READ HOW THE OTHER COLLECTIVES AND CO-OPERATIVES DEFINE THEIR BRANDS
Nirmaan Collective
WARE Collective
Aashiyana Co-operative
Arpan Co-operative
Ghar Udyog Collective
Ranphul Mahila Mandal Co-operative
Shramik Mahila Mandal Co-operative
Ekta Co-operative
Pragati Co-operative