A Rich Tradition: Hand Block Printing
May 21, 2020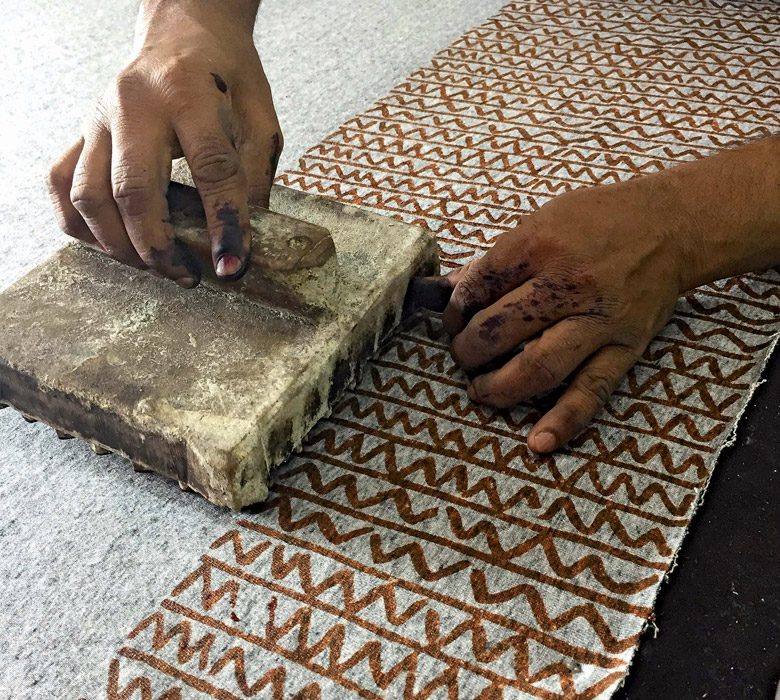 Using carved wood blocks to print patterns on fabric may not have originated in India, but they have certainly made it their own. Wood block printing in India dates back at least to the 12th C. and over that time artisans developed expertise in natural dyes and a range of techniques. This resulted in fabrics of unrivaled beauty and complexity that were traded throughout the world. Patterns were drawn from India's own diverse cultures as well as from trading partners throughout Asia, the Middle East, and Europe.
It all starts with a simple block of sheesham wood. Blocks are generally 6 to 8 inches square, although this can be adapted. A border design, for example, might be 6 inches long by the width of the border. The wood must be thick enough, maybe 2 to 3 inches, to resist warping. Using larger blocks would cover more area and make the process quicker, but the quality would be poor. The stamped design would not register the edges as well as the center or the print would be otherwise uneven. The pattern is carved as a relief into a smooth side using chisels and sharp knives. The block cutter carves out spaces around each motif and then incises the more delicate details. A handle is attached on the opposite side and the block is ready to go.
This prepared block can be used in a variety of ways to dye fabric. The design in relief can be dipped into dye and stamped directly onto the fabric. Or, it could be dipped into a resist substance such as wax. After being printed with wax the fabric would be put into a dye bath where only the unprinted sections would take up the pigment. Another very traditional technique would involve dipping the design into a mordant, a natural fixative which captures the dye when the fabric is submerged and ensures that only the treated parts turn the desired color. This is often the technique for using traditional natural dyes derived from plants and minerals. The liquid in the dye bath is often not the color which develops on the mordanted fabric. Whatever the block is dipped into, this step requires an expert touch. If dipped too far, there will be too much stamped onto the fabric, resulting in smudges and a ruined pattern. If the block is dipped too lightly or inconsistently, this would also spoil the design. And it's a one-take operation with no do-overs!
Placing and printing the prepared block requires another set of skills. The block must be positioned perfectly so that the overall design is clean and even, with no unintended overlaps or breaks. The artisan has to press the block with just the right amount of firmness and speed. Again, there is no going back if it isn't done right. The work is done with the fabric stretched on a printing table. This is a sturdy base covered with padding to provide just enough "give" to allow a perfect impression. A yard of 45" wide fabric could be stamped up to 48 times if it is a single block repeat design. Sometimes 3 or more different blocks may be needed to make up a pattern. The more blocks required, the more skillful the artisan needs to be to precisely place each block in the exact position, over and over again.
Hand block printing is a very demanding, labor-intensive method of dyeing cloth. The markets are full of inexpensive manmade fabrics machine-printed using fast chemical dyes. Traditional workshops such as Udyog Kala Kendra, where a lot of MarketPlace fabric is produced, however, are run with the belief that there is still an appreciation of and a market for the authentic artisan product.
At UKK, the recent Covid-19 work pause gave the artisans the opportunity to clean, sort, and organize their collection of blocks. Normally they are too busy to do this thoroughly. Any block printing workshop would have hundreds of blocks to choose from; UKK has over 200 blocks. Each one is really a work of art on its own. In fact, home décor shops offer reproduction carved blocks as wall and shelf ornaments. The real things are so much more interesting, with their evidence of use and their reflection of a storied history.
CUSTOMER REVIEWS
Amazing!
Mar 30, 2021
By Nancy Marstaller
As an artist who also makes block prints, I am blown away by the variety of techniques and blocks used, the precision printing, and the fabulous results. Thanks for sharing this story.
Ellen
Mar 30, 2021
By Ellen Koskoff
That explanation was really interesting and informative. Thanks so much!
Thank you.
Jul 2, 2020
By Ann Engelman
Watching the videos of the process is mesmerizing. Thank you. I own many marketplace garments and proud to wear them and tell your story.
These block prints mean even more to me now
May 21, 2020
By Therry Neilsen-Steinhardt
What extraordinary craftsmanship! I am thinking of the callus that the artisans must develop after hitting the print block time and again. Much of what makes Marketplace India so important to my wardrobe is that I am carrying the work of these artists into the world for others to see. You're never alone when you wear Marketplace India.