Power of the Human Spirit - 6
May 22, 2020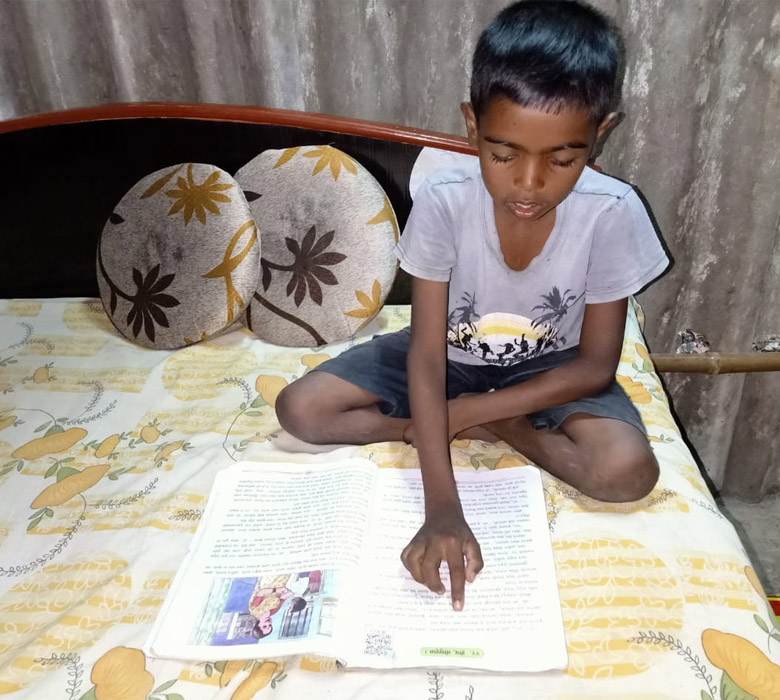 The future of their children has always been the highest priority for the women artisans. These are women who would make huge sacrifices to ensure that their children get a good education. Now that the schools are closed, tutors are unavailable and the city is on lockdown, they are worried that their children could lose progress and even motivation.

MarketPlace is providing each artisan with a food subsidy which helps with some of the stress. Share, the social development arm of MarketPlace, is in contact with the women and the children to offer support and ideas. The staff conducts educational sessions on Zoom and WhatsApp on English language, reading and writing. They are devising ways that the women can keep the children entertained, active and creative.

MarketPlace has also started the Education Uninterrupted Fund to help the artisans pay for school expenses, provide the older students with computers and augment their data plans so they can take advantage of research and programs.

Click here to donate to Education Uninterrupted
BEING TOGETHER WHILE APART
The social workers are communicating regularly with the children in groups over Zoom and WhatsApp. While the kids do not have computers, they do have cell phones with these apps. One advantage of doing it this way is that the parents - maybe the whole family - are involved together in listening and participating. The social workers are inventing games, activities and songs that the children can do as a group. It isn't the same as being together, of course, but it cheers everyone up and gives them a creative outlet. The younger children are creating artwork that they are sharing with one another - and us.
Top Left: Satyam Chouhan, Hanuman Tekdi, Education for Life Top Right: Tanvi daughter of Jagruti Achrekar from WARE Collective Bottom Left: Gracy daughter of Komal D'mello from Shramik Mahila Mandal Co-operative Bottom Right: Tanvi daughter of Jagruti Achrekar from WARE Collective
STAYING ACTIVE IN A SMALL CONFINED SPACE
Before the stay at home order, the women had been holding yoga sessions together, finding that this activity was good for their bodies and their stress levels. Now stress is even higher but space in their homes is at a premium. Nonetheless, the women have found ways to continue their yoga and find that it does have a calming effect. They have determined that having a specific time every day that is Yoga Time helps them structure their day. They are getting their children involved as well since everyone is at home and all can benefit from the movements and meditation. The kids like to show off their flexibility... which the women find irritating at times!
Top Left: Rishabh and Dhruv Sons of Sudha Shukla from Sahara Collective Top Right: Arpita daughter of Deepika Gond from WARE Collective Bottom Left: Mehak, daughter to Rehman Parmar from WARE Collective Bottom Right: Alfisha and Afiya daughter of Warisa Ansari from Aashiyana Co-operative
KEEPING UP WITH STUDYING
Covid-19 interrupted the end of the school year and no one is clear whether the final exams of the year will be held or not. The women have been trying to get their children to review their studies of the last year to keep them occupied and challenged so they are ready to resume school whenever it gets going. Many are having their children go over the school year materials for a full 2 to 3 hours a day.
Top Left: Namit son of Nisha Pandey from Ghar Udyog Collective Top Right: Huzaifa son of Warisa Ansari from Aashiyana Co-operative Middle Left: Suman Mali and Sonali Medhe from Ranphul Co-operative with their children Middle Right: Om and Divya son and daughter of Meena Gale from Ranphul Co-operative Bottom Left: Bhupesh son of Suman Mali from Ranphul Co-operative Bottom Right: Alfisha daughter of Wairsa Ansari from Aashiyana Co-operative
EXPRESSING THROUGH ART
Children do love to draw and their drawings provide insight into their experiences and thoughts. Some of the children are drawing about subjects they have been learning, such as the cycle of a butterfly or the planets of the solar system. Naturally, some of the pictures are also about Covid-19 and the precautions that are being taken in their world today.
Top Images: Drawings from Punit son of Mamta Gowda from Arpan Co-operative Bottom Images: Drawings from Mehak daughter of Rehman Parmar from WARE Collective
CLICK ON THE LINKS BELOW TO SEE MORE FROM THE ARTISANS.
Power of the Human Spirit - 1
Power of the Human Spirit - 2
Power of the Human Spirit - 3
Power of the Human Spirit - 4
Power of the Human Spirit - 5
Power of the Human Spirit - 7
Power of the Human Spirit - 8