Turkey/Chicken Junglee Pulao
November 24, 2020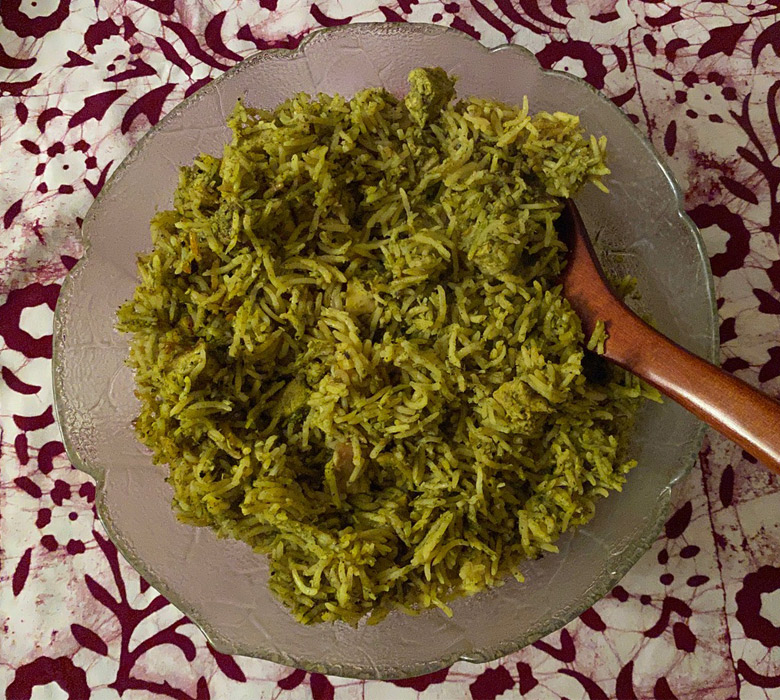 This dish is an imitation of biryani - it is easy to cook and tastes almost as good. To cook Biryani in the traditional style requires a number of steps and a lot of time. A distinctive dish with left-over turkey. The key here is to make sure that you have the right amount of water and a pot large enough. Make sure that the lid is firmly on.
Ingredients:

2 lbs Turkey or Chicken Breast (Raw or Leftover)

2 cups rice

1 cup unsweetened coconut flakes or powder

2 cups fresh coriander leaves

Jeera Meera - Green Masala Ingredients:

4 green chilies

1 tsp finger turmeric

1 finger worth of ginger

2 tsp cumin seed

4 cloves

1 stick cinnamon

2 cardamom pods

10 cloves of garlic

15-20 black peppercorns

Method:

Add all spices for the Green Masala in a blender and grind them together leave in the blender. Then cut turkey or chicken into 1" cubes and set aside. Add the fresh coriander and unsweetened coconut flakes to the blender with the Green Masala spices and blend them into a fine paste. (Add water if necessary, but be careful not to add too much water.) Heat oil in large pot, add the blended spice paste which should be approximately 1½ cups to the pot and cook for a couple of minutes. Next add the turkey or chicken and cook for 5 minutes to about ⅓ done. (If using leftover turkey or chicken no need to cook for 5 minutes.) Add 2 cups of raw rice to sauce pan with 3 cups water assuming the blended liquid is 1½ cups. You want a total of 4½ cups of liquid in the pot. Add salt to taste. Bring to boil. Then lower heat and cook for 10 more minutes or till rice is cooked and water has dried. Stir once after 5 minutes. Serve with Yogurt.