A Favorite and Easy Chicken Tikka Masala
July 23, 2012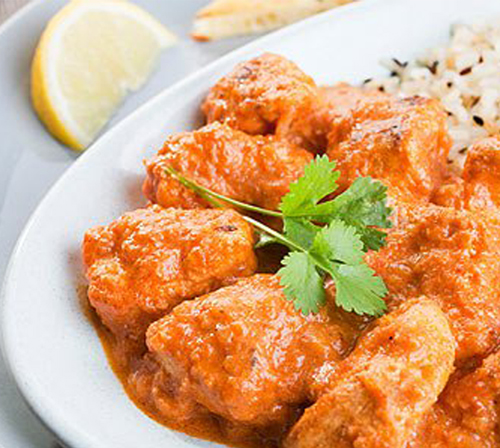 "Both Shanti and Ashok love Chicken Tikka Masala and I was thrilled when I got this recipe which is easy and tastes as good as in restaurants." -- MarketPlace President, Pushpika Freitas
Marinade Ingredients:

1 cup plain yogurt

2 tablespoons lemon juice

2 Tbsp. ground cumin

2 Tbsp. red pepper

2 Tbsp. black pepper

1 tsp. cinnamon

1 tsp. salt

1 piece ginger root (minced)

1½ lbs. boneless, skinless chicken breasts

Sauce Ingredients:

1 tsp. unsalted butter/veg oil

2 cloves garlic, minced

1 jalapeno chilli (minced) or sub for chili powder

2 tsp. ground coriander

1 tsp. ground cumin

1 tsp. paprika

1 tsp. garam masala

1 can (8 ounces) tomato sauce

1 cup whipping cream

¼ cup chopped fresh cilantro

Cooking:

Combine all marinade ingredients with chicken and refrigerate for at least 1 hour - overnight is better.

Grill on skewers turning occasionally - discard marinade. Or in winter bake in dish with marinade until cooked thoroughly - about 8 minutes and then broil to brown the chicken a little - another 5 minutes. All this can be done a day or more before and refrigerated.

Melt butter/oil over medium heat, add garlic, jalapeno and cook 1 minute. Stir in coriander, cumin, paprika, garam masala and salt. Stir in tomato sauce. Simmer 15 minutes. Stir in cream. Simmer until sauce thickens, about 5 minutes. Add salt to taste. Remove chicken from skewers and add to sauce. Simmer 5 minutes. Serve with rice or naan.