Gobi (Cauliflower) with mixed Vegetables
March 31, 2017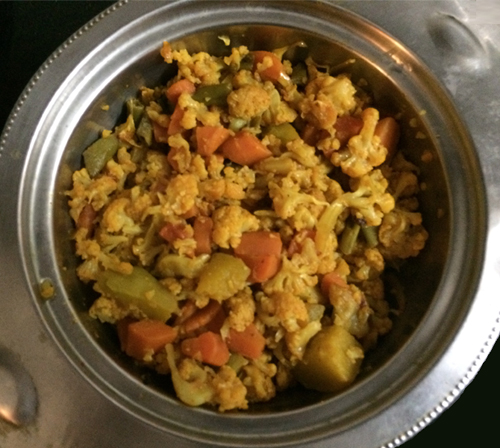 Ingredients:

2 teaspoon oil

1 tsp. ground cumin

2 tsp. ground coriander

1 tsp. turmeric

1 tsp. red pepper

1 small cauliflower

2 medium potatoes cut in 1-inch squares

1 cup carrots and beans, cut small

3 tsp. chopped coriander leaves (optional )

salt to taste

Cooking:

Heat oil. Add cumin seeds, ground cumin powder, coriander, turmeric, red pepper. Cook for 2 minutes on medium heat stirring well. Add potato, carrots, beans and cauliflower and mix well till veggies are coated with the spices. Cook 10 minutes on low heat and cover, stirring occasionally.