Green Bean Vegetable
June 14, 2019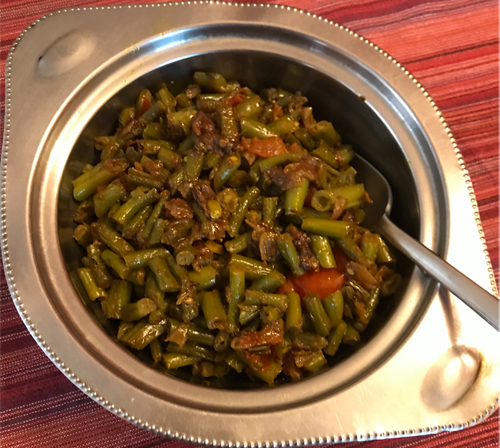 Ingredients:

2 tsp vegetable cooking oil

½ tsp whole cumin seeds

¼ kg (about ½ lb) green string beans, each bean cut into 3 equal pieces

1 medium onion, chopped fine

½ tsp ginger-garlic paste

½ tsp ground turmeric

½ tsp ground cumin

½ tsp garam masala

1 medium tomato, chopped

Salt to taste

Cooking:

Heat oil in a pan over medium heat and add cumin seeds. As soon as the seeds start to turn brown, add chopped string beans Add chopped onion, mix well and cover with lid for 2-3 minutes. Add ginger/ garlic paste, salt, ground turmeric, ground cumin and mix well. Let it cook, uncovered, for 4-5 minutes, stirring occasionally. Stir in garam masala and chopped tomato. Let it cook for five minutes.