Palak Paneer
April 11, 2016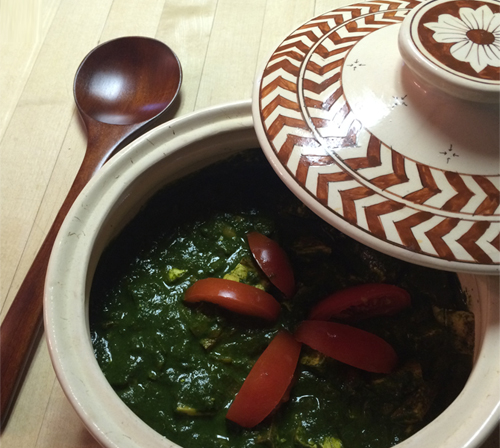 This is really a good recipe; easy and flavorful try with Spinach & Paneer or Tofu!
Ingredients:

1 pkt Paneer or 1 Pkt Firm Tofu

2 bunches fresh Spinach

5 Cloves

1 cinnamon stick

3 Cardamom pods

1 tsp. minced fresh ginger

½ tsp. minced garlic

1 onion chopped

1 tomato chopped

½ tsp. turmeric

¼ tsp. ground cayenne pepper

1 Tbsp. oil

Dash of Pepper and salt

Cooking:

If using Tofu, cut the Tofu into 5 rectangular pieces. Place on a dish over paper towels and place a heavy weight on them - a heavy pan or another plate weighted down with books - for at least 30 minutes. This will get the excess water out. Then cut into cubes.
If using Paneer, cut in small cubes.
Remove stems and wash Spinach. In a saucepan, cook on low heat for 2-3 minutes. Do not add any water; the water left on the leaves from washing the spinach will be enough.
Puree in a blender or food processor.
Heat oil in a pan - fry cloves, cinnamon and cardamom for 1 minute. Add ginger and garlic and fry for 2 minutes; add onions, tomatoes, turmeric and cayenne pepper and cook on low heat for 5-8 minutes. Season to taste with salt and pepper. Add pureed spinach and paneer or tofu cubes. Cook until hot. Remove cardamom pods before serving.
Serve with rice or flat bread and ENJOY!