Palak (Spinach) Dhal
December 22, 2016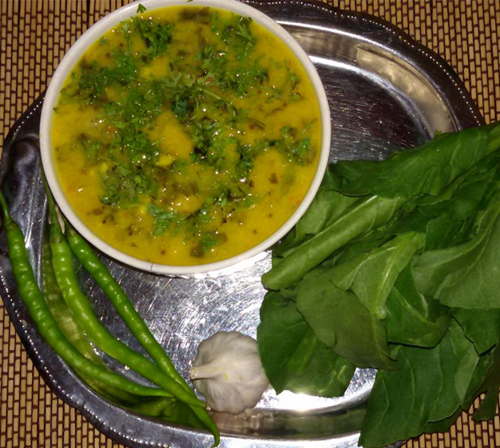 Ingredients:

½ cup moong dhal

1 cup water

Spinach leaves, 10 to 15 full-sized leaves, coarsely chopped

1 small onion finely chopped

1 small tomato chopped

2 hot green chilies slit down the middle

¼ tsp. turmeric powder

2 Tbsp. vegetable oil

¼ tsp. black mustard seeds

5 fresh curry leaves (optional; available at Indian grocery stores)

4 - 5 cloves of minced garlic

Chopped cilantro for garnish

Salt to taste

Cooking:

Combine the dhal, water, spinach, onion, tomato, green chilies, turmeric powder, and salt.Bring to a boil and simmer until the dhal is soft, adding additional water if necessary and put aside. In another saucepan heat the vegetable oil. Add the mustard seeds, curry leaves (if using) till the mustard seeds splatter and add garlic. Fry for a couple minutes. Add the dhal mixture. Bring to a boil and let it simmer on medium heat for 4 to 5 minutes. Garnish with the cilantro and serve hot with naan or rice. Enjoy!