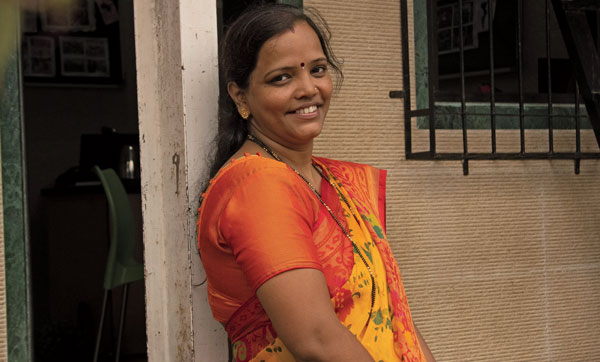 Anita Sakpal: Embroidery Artisan, Ekta Cooperative
Anita Sakpal has been an Armaan Club leader for 4 years. This club provides academic and enrichment programs for the artisans' children. Anita's responsibilities, as a leader, are many and varied, and she has had to develop her organizational and leadership skills. Aside from helping to plan the club's activities, she confers with the social worker concerning students' schooling needs and runs a book distribution program. Being a leader is a big change for her, she admits. "As a young girl I was always told to be quiet and listen to people even when they were wrong. I am not the same person anymore." This work has also given her insight into her own son. Instead of pushing him for grades, she now believes that "children should be given opportunities for overall development."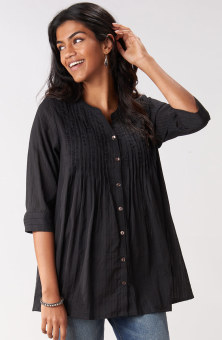 Vaishali Tunic - Black
$78.00–$82.00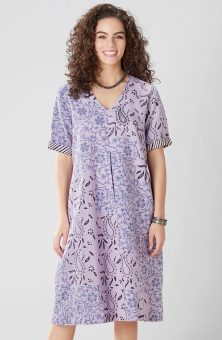 Madhvi Dress - Lavender
$118.00–$122.00
Write a review
---
Love these culottes!
May 5, 2022 | By Al Gene
I wear these culottes all the time. They are so comfortable. I have every color. With tunics... unbeatable. So many compliments every time.
---
Lightweight and cool
Jul 13, 2022 | By Evelyn
Had to exchange for another size and waiting. The fabric seems so cool
---
Perfect summer layer
May 13, 2023 | By Kim
Love the sizing charts so that I know what I will receive will fit. The lightweight and natural fiber will make these my go to this summer!
---
Versatile Sizing
Jun 13, 2023 | By Mary
It you are like me and wear a 2W, I can assure you that you can order a 3W if they are out of our size. The elastic in these culottes is snug enough that the larger size works fine.
---
Make More; I'll buy More
Jul 19, 2023 | By Jannie
Stunning! Please increase your supply. I need black, blue and emerald green ones in Plus sizes. Love 'em.
---
Perfect
Aug 17, 2023 | By SoCalKat
Perfect summer pants that look great with everything. Fabric is both pretty and light--perfect for hot summer days.
---