Resilience Redesigned: The MarketPlace Way - 5
November 09, 2020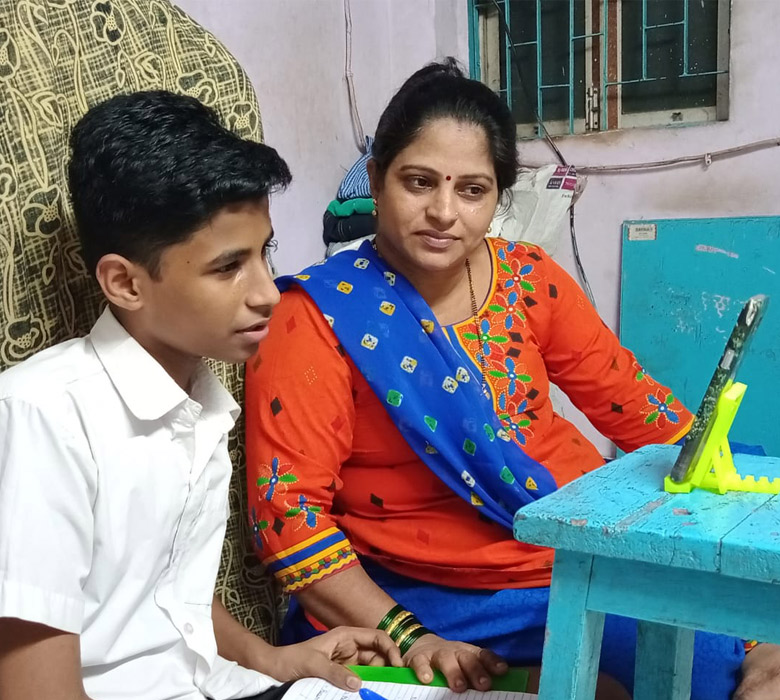 Life was never exactly easy in the narrow lanes of the Santacruz, Mumbai slum. The coronavirus and lockdown restrictions have made everything even more complicated. Yet there are still inspiring stories from the staff at SHARE, MarketPlace Bombay, and MarketPlace Chicago. These are all accounts that have moved the staff whether it was another colleague or the artisans and their children. Refusing to be discouraged, they are finding ways to not only cope, but triumph.
INITIATIVE OF THE YOUNG
By Suvarna - Social Worker, Armaan Club
Anamika Singh is a 9th grader whose mother Sarita belongs to Ekta Collective. Anamika had heard the daily reports about the coronavirus spread and the importance of social distancing and masks. She noticed that people around her were not taking this seriously, including her own family members. She decided to take action. Collecting spare clothes, she watched YouTube tutorials on making face masks. After hand stitching a sample, she tested it on herself for comfort and fit. Once satisfied that she had it right, she went ahead and sewed 5 more masks, one for each family member. But she did not stop there! Seeing that the young children roaming around her neighborhood were not wearing masks, she made more and distributed them to the kids for free. She also spoke to them about how the virus is spread and how to stay safe. Her initiative and public spirit are inspiring.
ONLINE ADVOCATE
By Suvarna - Social Worker, Armaan Club
Radha Singh is the leader of Ekta Collective. Her son Ganesh is in Grade 3, and recently his school started online classes. Many of the students are having difficulties with this new program, above and beyond the issue of doing this on a cell phone and unstable network connections. Radha realized that the students were finding it hard to understand the lessons and impossible to ask questions. The online classes have 30 to 40 kids attending at once, so there was no individual attention from the teachers. Most of the parents are not educated and could not help their children understand the material. Because she is educated and rather self-confident, Radha was able to jump in and ask questions to clarify points for her son. Realizing that most parents could not do this, she became an intermediary and advocate. She called the teachers directly and encouraged the parents to do likewise. She is also working with parents to help them understand the technology and the curriculum materials.
PARENTAL SUPPORT AND STRENGTH
By Ardra Desae - Community Social Worker, EFL
Our Education for Life team has been very encouraged by the willingness of neighborhood parents to get involved in their children's education. EFL is a community-based program which is open to all children in the Santacruz, Mumbai slum area. During the lockdown, many of the parents lost their income and some were migrant workers who returned to their native villages. We were not sure how they would respond to our idea of continuing the children's education with activities we could communicate over the phone. While there have been many problems, the parents have enthusiastically supported us and their kids. Fathers take messages on the phone for their kids, and parents and older siblings supervise lessons to make sure the children pay attention and to help with questions or technical issues. This sort of response makes our work worthwhile and we know it will benefit these young people.
CLICK ON THE LINKS BELOW FOR MORE STORIES.
Resilience Redesigned: The Marketplace Way-1
Resilience Redesigned: The Marketplace Way-2
Resilience Redesigned: The Marketplace Way-3
Resilience Redesigned: The Marketplace Way-4
Resilience Redesigned: The Marketplace Way-6
Resilience Redesigned: The Marketplace Way-7

CUSTOMER REVIEWS





Marketplace Resilience
Nov 17, 2020
By Elizabeth Pomeroy
I am so inspired by the stories of the Marketplace women assisting their children's education ! I am a school board member in California and know how hard it is to get lessons through this way. I'm wearing a beautiful Marketplace jacket right now, and it's an honor to support these wonderful artistic dedicated women ! Best wishes from California