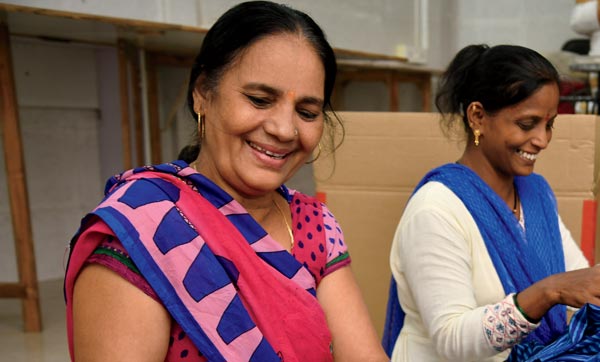 Tara Tiwari: Embroidery Artisan, Nirmaan Collective and Quality Checking Team Member
Tara's 4 older brothers went to school, but in her village, it was not the custom to educate girls. After she married a daily wage worker, she moved to Mumbai and found herself in a strange city with no education or skills. The transition was traumatic, and she lost her self–confidence. Her life changed for the better when she joined Nirmaan. There she discovered an environment that valued and supported her. She found that she has a passion for perfection and a talent for learning. Aspiring to join the Quality Checking team she worked diligently with her son to learn English so she could read labels and instructions. Her careful work makes her a highly regarded team member, and it gives her great satisfaction.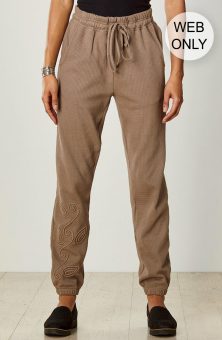 Jogger - Mushroom
$72.00–$76.00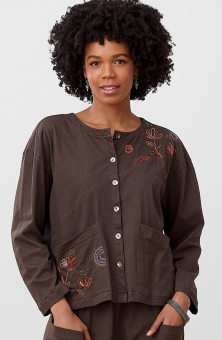 Gauri Cardigan - Fossil
$108.00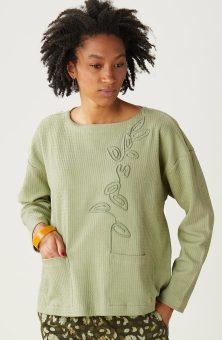 Ansiba Tee - Leaf
$74.00–$78.00
Write a review
---
comfortable top
Sep 13, 2021 | By Cara
I followed the size chart and ordered large. Medium would have fit; it's quite roomy. The cotton is soft and comfortable, and I like the boxy shape. The embroidery looks delicate, but fortunately isn't. I'm enjoying the top, and expect to enjoy it for a long time to come.
---
Beautiful but oversized
Sep 22, 2021 | By Janet
I loved this piece but am returning it because, despite it being a XS, it is too large. Will continue to look for other items to purchase!
---
Ansiba Tee
Jan 23, 2022 | By Jerry Cornwell/Kathy Nelson
I bought this for my partner, She really liked it! Fits well, looks good.
---