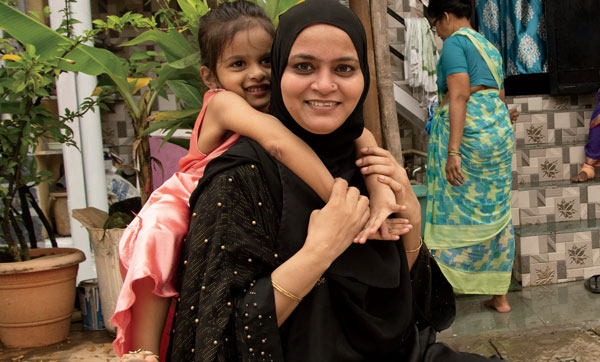 Tasleem Alauddin Shaikh: Embroidery Artisan, Ghar Udyog Collective
Tasleem Alauddin Shaikh had doubts. "When I first joined Ghar Udyog Collective I was told that I would have to attend meetings. I was not very happy about that. I just wanted to earn money." These meetings are organized with the groups to supplement the artisans' work experience and increase their self–confidence. Tasleem discovered that many of the programs were indeed helpful to her. Married at 16 with no experience of bringing up children, she had struggled on her own. As a member of the group she was able to participate in sessions with therapists, social workers, and other discussion groups have helped her with anger management, improved her relationship with her children, taught her about conflict resolution, and informed her of cost–free programs for her children. Now she says, "I think access to knowledge is the most important thing in life."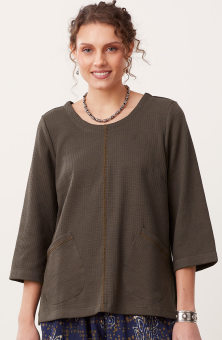 Prachi Top - Dark olive
$85.00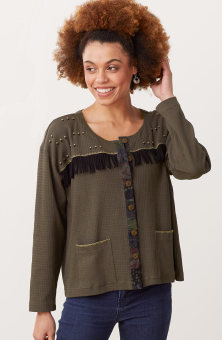 Ansiba Cardigan - Dark Olive
$82.00–$86.00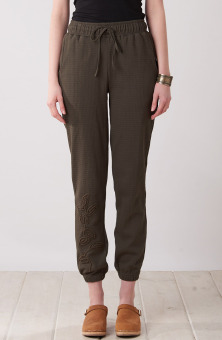 Alwar Jogger - Dark olive
$72.00–$76.00
Write a review
---
perfect fit and feel
Oct 24, 2022 | By REBECCA SARTAIN
I ordered the Women's 2x in dark blue and it fits great over my large 5'8 frame. Sleeves go past the wrist and length hits in a straight hem at mid hip - perfect and so rare to find. It drapes from the shoulders, no hugging at all. Fabric is mid weight and what is needed for a mild winter wearing. I'd order more if the colors were brighter.
---
BEAUTIFUL
Jan 18, 2023 | By Teresa
The top is well constructed & sewn, beautiful color, arrived earlier than expected, fit is great.
---