Sahara Collective Define Their Brand
Sahara is one of the oldest groups and consists of 10 tailors, 18 embroidery artisans, 2 cutters and one supervisor. It is particularly significant that one of the words they used to describe themselves is "unity." This is a mixed group of Hindu and Muslim artisans, but instead of this being a source of conflict they make it a source of celebration. The bonds between the members are strong, as they celebrate one another's different holidays, go on picnics together, and assist one another. They also take an interest in their greater community, participating and initiating social programs and community development. They chose these four words to capture their identity:

1.Support Each Other
2.Quality
3.Unity
4.Acceptance For All Work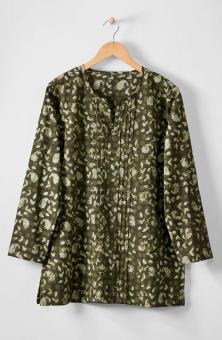 Saanya Tunic - Dark olive/Multi
$74.00–$78.00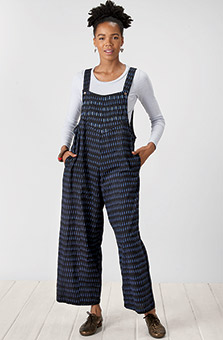 Deepti Overalls - Black/Blue
$88.00–$92.00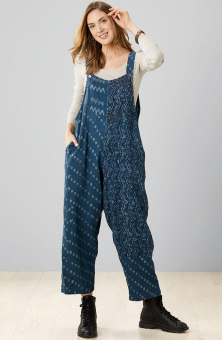 Brinda Overalls - Dark pond
$118.00–$122.00
Write a review
---
cute comfy fun
Oct 5, 2021 | By Kristen
Fit is as described. Product as pictured. Love it.
---
Overall evaluation
Oct 5, 2021 | By Mary Manning
Is exactly as described and I'm very happy . The fabric is good quality, not too heavy not too light. I washed before use with vinegar in the water and let dry over a chair. Am pleased it's not too wrinkled and will not need to be ironed. Thanks ladies.
---
Great
Oct 9, 2021 | By beachgirl
These overalls are so comfy and soft. I love them!
---