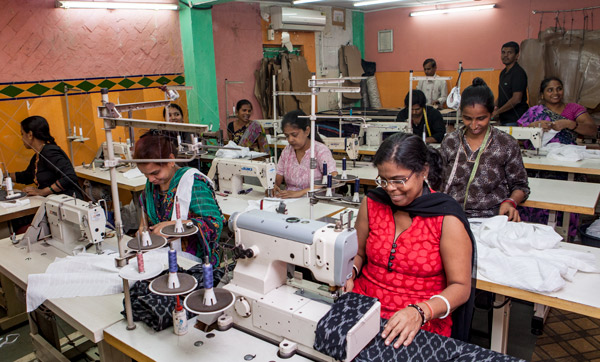 Nirmaan Cooperative Define Their Brand
Nirmaan is one of the oldest and largest groups, consisting of 12 tailors, 20 embroidery artisans, one cutter and two supervisors. Some of the artisans have actually been there for 30 years, and they have seen much growth. When clashes arise in the group, these elders often can intervene with wise suggestions to defuse the situation. It is a lively group, but everyone has the same goal. Whenever a change is considered, they hash it out before coming to a consensus. They love learning new things and are always eager to participate in social programs and events. Nirmaan chose these four aspects to describe their identity:

1.Unity
2.Hard Work
3.Quality
4.Communication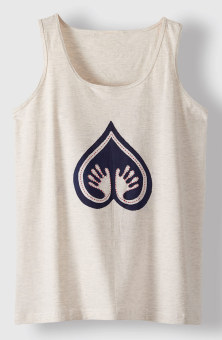 Leela Logo Tank - Oatmeal
$46.00–$49.00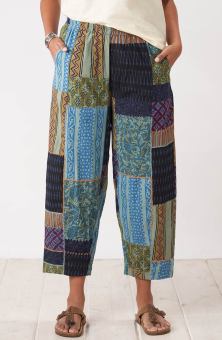 Banjara Patchwork Pant - Dusty teal/Chindi
$108.00–$112.00
Write a review
---
Unique
Jun 11, 2023 | By CAM
The short sleeves shirts with embroidered details are a great fit as well as lovely. Thank you.
---
Comfort Style
Aug 22, 2023 | By Joy
Fashionable top with exquisite embroidery detail. Very comfortable too!!
---
Flattering comfortable and it feels like a dream!
Oct 10, 2023 | By Therry
I treasure every garment I've ever bought from Marketplace, and I've been shopping here since the 90's! This top is not only made of French Terry, a lovely fabric, it is also a terrific color and it's covered with ravishing embroidery. Nothing says hand made like embroidery, and I know it's one way that women begin working with Marketplace. I feel like I am contributing to a woman startiing to make her way at Marketplace when I invest in a piece with embroidery as one of its features. I particularly love thelength of this top, too. I have a long torso, and this top covers me nicely.
---