Kalamkari:
The word Kalamkari is derived from a Persian word where 'kalam' means pen and 'kari' refers to craftsmanship. Initially Kalamkari fabrics were hand painted but today wooden carved blocks are used. Kalamkari textiles were a prized trading commodity throughout Asia and Europe for hundreds of years. This traditional art has survived among dedicated artisans in southern India who follow the age–old techniques and natural dye recipes of this painstaking process. The process can involve 23 steps each requiring precision and an eye for detailing.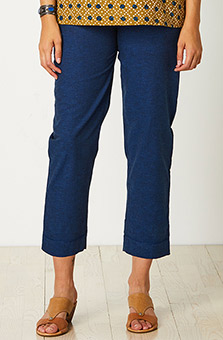 Kavya Pant - Indigo
$72.00–$76.00
Reversible Amulya Jacket - Black Multi/Natural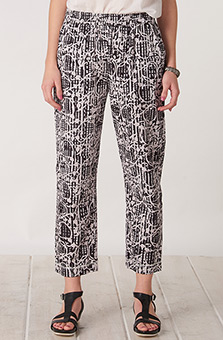 Kavya Pant - Black/White
$69.00–$72.00
CUSTOMER REVIEWS





Sometimes I wear a Medium, sometimes a Large in this style
Dec 22, 2021
By Therry Neilsen-Steinhardt
But in this version, I definitely needed a large! They're wonderful pants in my proper size and I adore them, but they do run a little bit long. So if you too are between sizes, order the larger size, and be prepared to shorten the pants too. They run a little long. But oh boy, are they terrific pants!





I could live in the Kavya pant
Dec 22, 2021
By Therry Neilsen-Steinhardt
I think this is my fourth pair of Kavya pants. I have them in one solid color and three prints. The cut is so flattering and comfortable, and the variety of colors and prints are so inviting. I have to admit, this particular print is cut a little long, so I'll be taking them up about an inch. But oh the fabric is so comfrtable next to my skin, and the cut is so becoming, and the print goes with most of the tops and sweaters I already have. I have never regretted making Marketplace India the center of my wardrobe, and I've been dressing with Marketplace India for over thirty years. Smartest clothes investment I ever made!





Stylish and Comfy
Jul 26, 2021
By Shelly Leal
I've had my eye on these pants for awhile and bought them on sale. They are a classic style, not a relaxed fit, but they look great and fit comfortably. And they have pockets! They go well with a few different colored tops too. The waistband is snug. Great for summer.





slim but comfortable
Jan 6, 2021
By bee
luv these pants, slimmer fit then i usually buy but still roomy enuf for my curves. wonderful colors used in kalamkari print make these versatile for mix and match with many different tops. only con is the length and having the embroidery at the hem. i am 5'3" so pants puddle but i don't want to hem and lose some of the embroidery. how bout raising embriodery detail enuf so pants can be shortened...