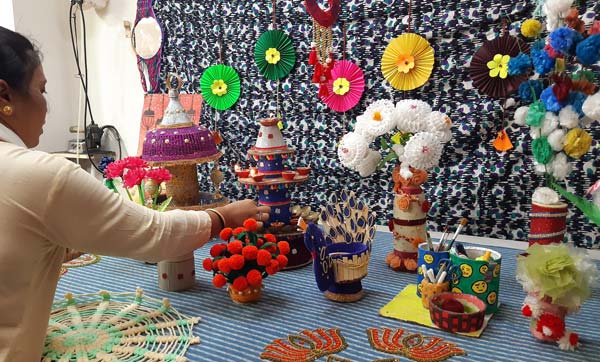 Make From Waste
The women in the Social Action Program decided to find a more eco–friendly way to celebrate festivals. Typically Indian community celebrations produce decorations that are wasteful and bad for the environment, such as figures made of plaster of Paris and toxic paints. The artisans felt that they could make change happen on a personal scale by using recycled and leftover materials. In a friendly competition the women have turned leftover bits of cloth, paper, wax – whatever they find when they clean out their homes for the holiday – into wall hangings, vases, lamps and more.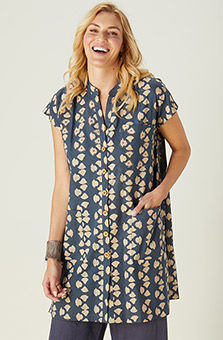 Manjula Tunic - Slate blue
$84.00–$88.00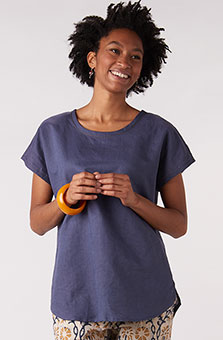 Bimala Top - Slate blue
$62.00–$65.00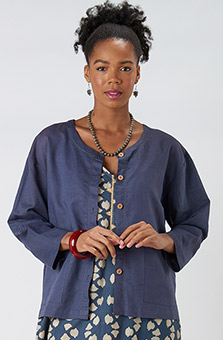 Dharika Top - Slate blue
$78.00–$82.00
Write a review
---
Order a size larger
May 11, 2022 | By Sandy S
I suspected these would need to be ordered a size larger than I normally wear and yes, I was right. The cut is roomy but with the size larger I don't have "crotch" binding, nor do they ride down when you sit or are working. The drawstring waist allows a custom fit. I love the fabric- lightweight yet not "exposing". I find I roll the pant leg since the length looks neither short nor long enough so I make it what I like and that works- and looks intentional.
---
Perfect Summer Pants
May 30, 2022 | By K rain Goorchenko
These fine linen pants are well made, loose and cool for the upcoming hot weather. There is some nice embroidery on the roomy cargo pocket.
---